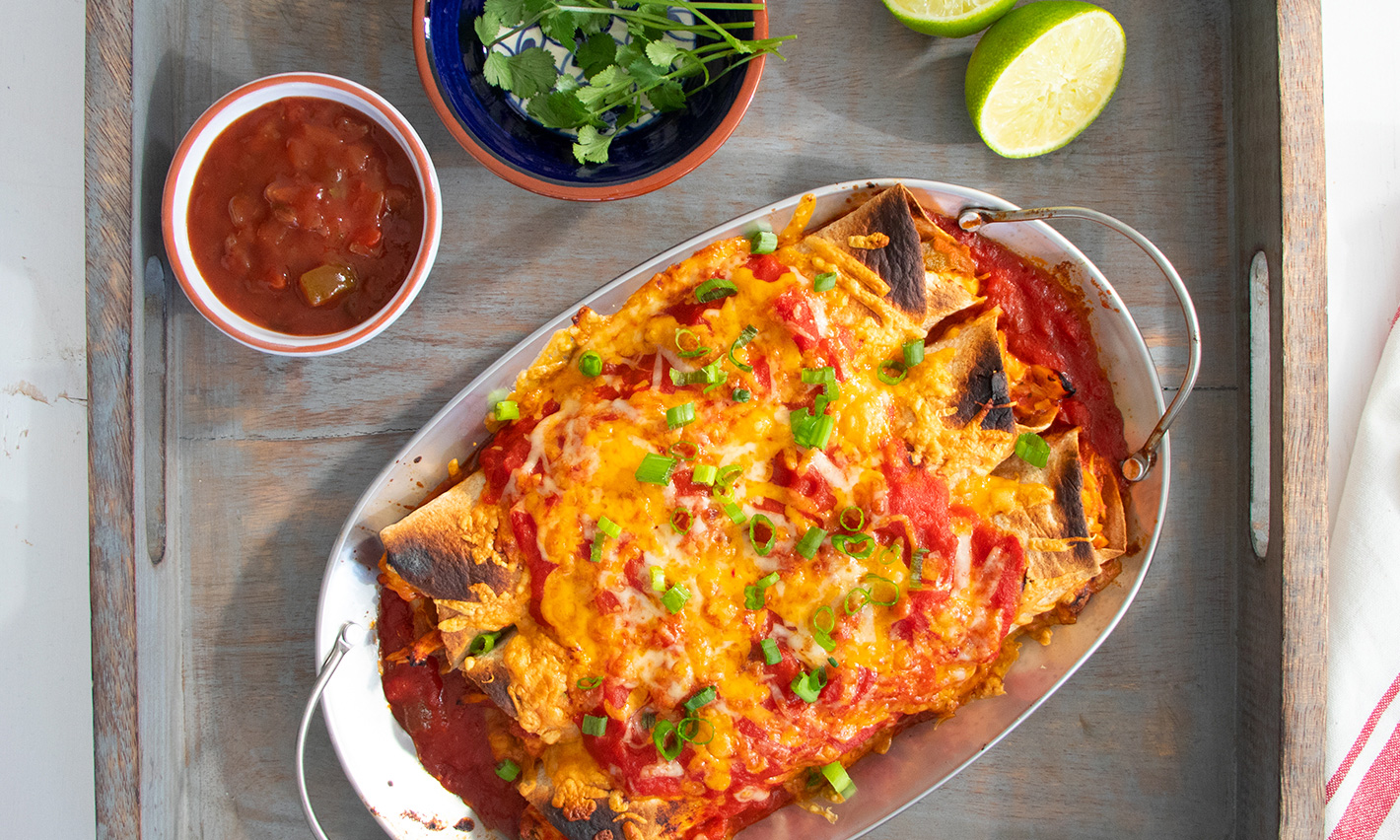 Spicy Baked Enchiladas
Cinco de Mayo recipe alert! These Spicy Baked Chicken Enchiladas borrow only the best from Mexican and Italian cuisines. They are flavourful, spicy, so cheesy, and guilt-free!
Ingredients
1 

store-bought roasted chicken

1 

small onion,

finely chopped

1 

green pepper,

coarsely chopped

1 

chipotle chili (with its adobe sauce),

finely chopped

Salt and freshly ground pepper

8 

8-inch (20cm) flour tortillas

1/2 cup 

grated cheddar cheese

1/2 cup 

grated Monterey jack cheese

Garnishes: chopped cilantro, chopped green onions, chopped black olives
Directions
Preheat oven to 350°F.
Remove meat from the roasted chicken, discarding skin and bones. Shred by hand into 2-inch (5cm) pieces and set aside.
Heat the olive oil in a large skillet over medium heat. Add the onion and green pepper and sauté until onions are translucent, about 3 minutes. Add in chilies and mix well. Pour in the Siciliana Sauce and bring to a boil. Stir in shredded chicken toss until well mixed. Season. Remove from heat and set aside to cool.
Divide chicken mixture and fill tortillas, fold together and lay snugly in a lightly greased 9 x 13-inch baking dish. Spread the Arrabiata Sauce over the top and then sprinkle with the shredded cheeses.
Place into preheated oven and bake for 30 to 45 minutes or until the cheese is melted and the sauce is bubbly. Serve onto warm serving plates and garnish.
Recipe Reviews