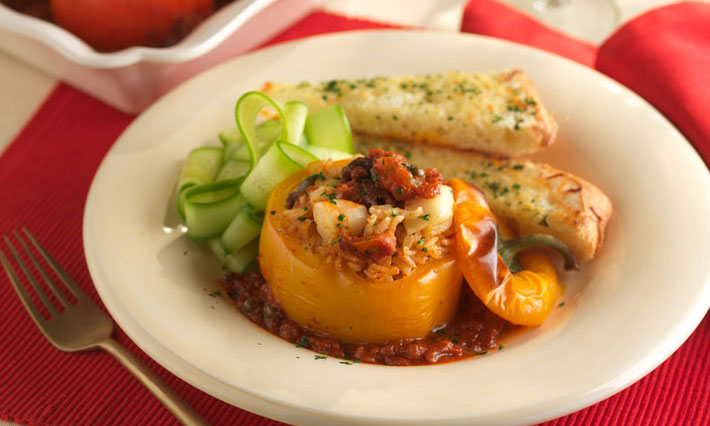 Seafood Stuffed Baked Bell Peppers
Succulent seafood meets the Mediterranean flavour of Puttanesca sauce in these delicious and easy-to-make stuffed bell peppers. But don't forget the garlic bread!
Ingredients
1/2 

medium onion,

finely chopped

3/4 cup 

uncooked long-grain white rice

1/2 lb 

raw medium shrimp,

peeled, deveined and cut into ½-inch (1.25cm) pieces

1/2 lb 

white fish fillets,

cut into 1-inch (2.5cm) pieces

1/3 lb 

bay scallops,

rinsed and drained well

Salt and freshly ground pepper
Directions
Preheat oven to 350°F (170°C).
Heat the olive oil in a saucepan over medium heat. Add the onion and sauté until translucent, about 3 minutes. Add the rice and stir until well coated. Add the water and ½ cup (125ml) of the Puttanesca Sauce. Bring to a boil, cover and reduce heat to simmer. Cook for 20 minutes or until fluffy. Stir in the seafood. Set aside.
Remove and discard the tops, seeds, and membranes of the bell peppers. Arrange peppers in a baking dish with the hollowed sides facing upward. (Slice the bottoms of the peppers if necessary so that they will stand upright.) Spoon the rice mixture into the bell peppers. Pour the remaining Puttanesca Sauce over the stuffed peppers.
Bake ½ hour in the preheated oven, loosely covered with foil, basting the peppers with sauce every 15 minutes. Remove foil and bake a further 15 minutes or until the peppers are tender and the seafood is cooked.
Recipe Reviews