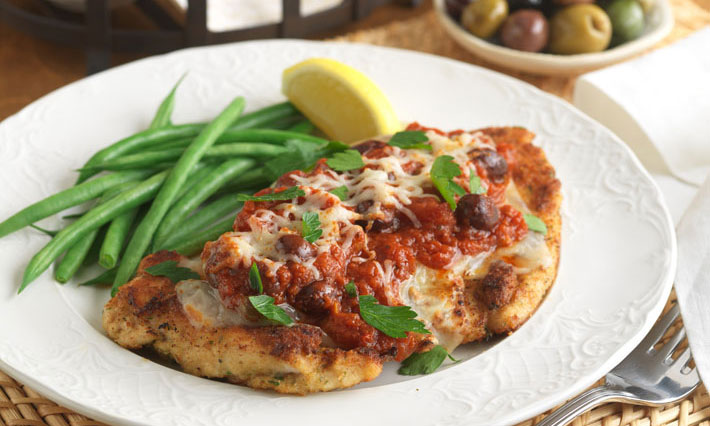 Baked Spicy Chicken Cutlet Parmesan
This Baked Spicy Chicken Cutlet Parmesan recipe transforms everyday chicken cutlets into something so spectacular with a spicy Mediterranean flair.
Ingredients
6 

boneless chicken breasts,

pounded to ½ inch (1.25cm) thickness

1 teaspoon 

cayenne pepper

2 cups 

regular or seasoned Italian style breadcrumbs

12 thin slices 

mozzarella cheese

1/2 cup 

grated parmesan cheese
Directions
Preheat oven to 350°F.
In a mixing bowl whisk together the egg and milk. Mix the breadcrumbs with the cayenne. Dip the pounded chicken breasts in the egg mixture and then coat well with the seasoned breadcrumbs.
Heat a non-stick skillet over medium-high heat. Add half the olive oil and brown the chicken cutlets a couple at a time. Do not crowd the skillet. Brown in the hot oil on both sides until golden, about 3 to 4 minutes on each side. Remove and set into a large baking dish. Repeat with other chicken cutlets.
Place two mozzarella slices on each chicken cutlet. Pour the Puttanesca Sauce over the chicken cutlets and sprinkle with parmesan cheese. Place into the preheated oven and bake 25 to 30 minutes or until bubbly. Serve with a salad and garlic bread.
Recipe Reviews