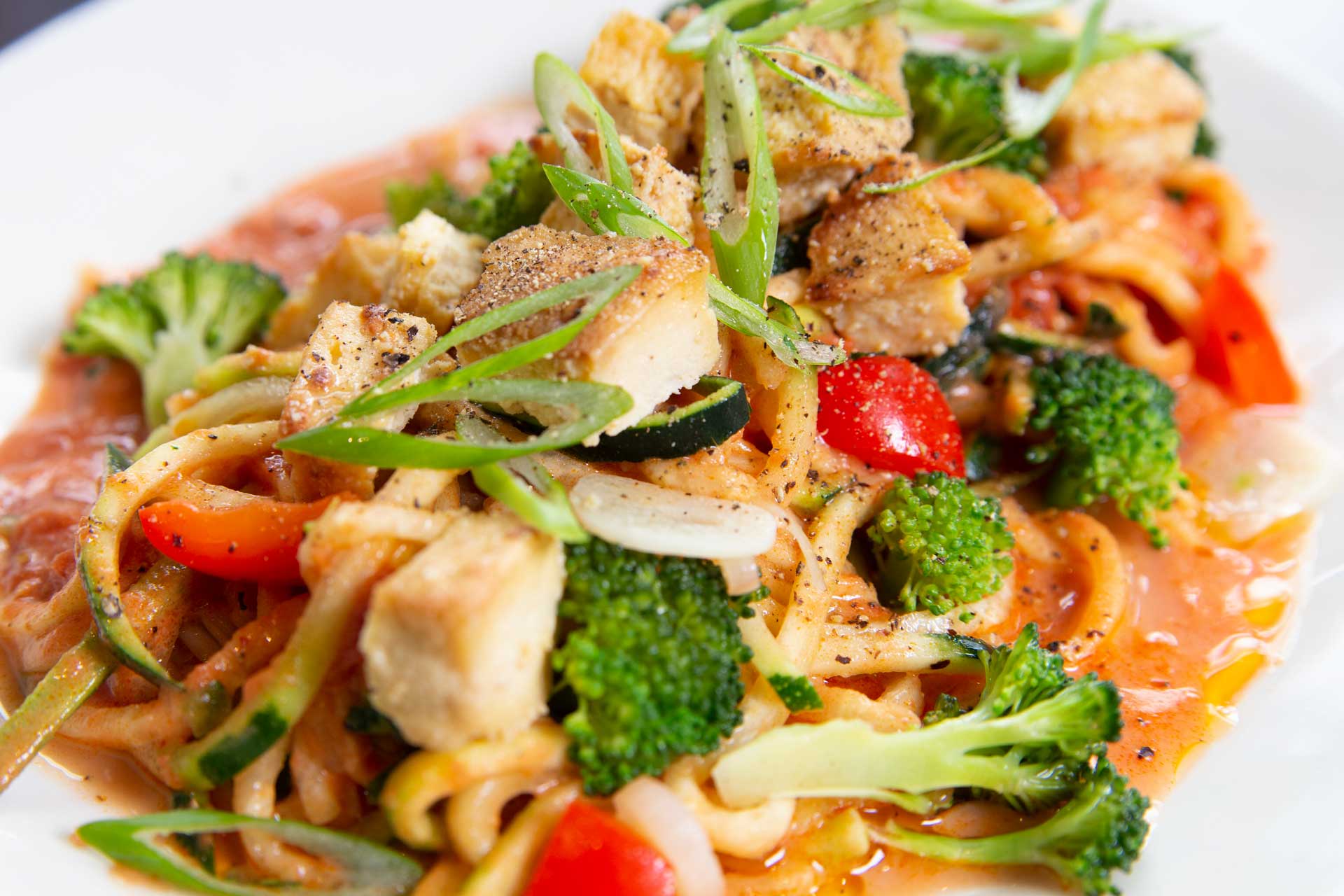 Vegan Zucchini Pasta with Crispy Tofu
Ingredients
2 medium zucchini, spiralized
2 tbsp olive oil
2 medium shallots, thinly sliced
3 cloves garlic, thinly sliced
1 bell pepper, diced
1 head broccoli, chopped into small florets
1 jar (530ml) Authentica Arrabiata Sauce
1 cup coconut milk
1 block (12oz) of extra-firm tofu
2 tsp onion powder
2 tsp garlic powder
Salt and pepper, to taste
Green onion, thinly sliced to garnish
Directions
Preheat the oven to 425°F.
Press the tofu by placing it between paper towels or a tea towel with a weighted object on top to draw out excess moisture. Press for a minimum of twenty minutes while you prep other ingredients.
Heat 1 tbsp olive oil over medium-high heat. Once oil is heated, add the zucchini noodles and toss to coat in oil. Cook for 2 minutes, stirring occasionally. You want the zucchini noodles to be slightly wilted but not overcooked. Remove from heat and set aside.
Prepare the tofu by roughly tearing into bite size pieces and tossing in onion powder, garlic powder and salt and pepper. Arrange on a baking sheet in a single layer with an inch between each piece and bake for 20 minutes, flip and bake for another 20 minutes or until golden brown and crispy.
While tofu is baking, add the remaining oil to the pan over medium heat. Add shallot and cook until soft and translucent. Add garlic, pepper and broccoli and cook for 5 minutes.
Add Authentica Arrabiata sauce, season with salt and pepper and bring to a simmer until vegetables are cooked, 8-10 minutes. Add coconut milk and cook for another 5 minutes.
Portion out zucchini noodles amongst the plates, top with sauce and tofu. Garnish with green onion and cracked black pepper.
Recipe Reviews