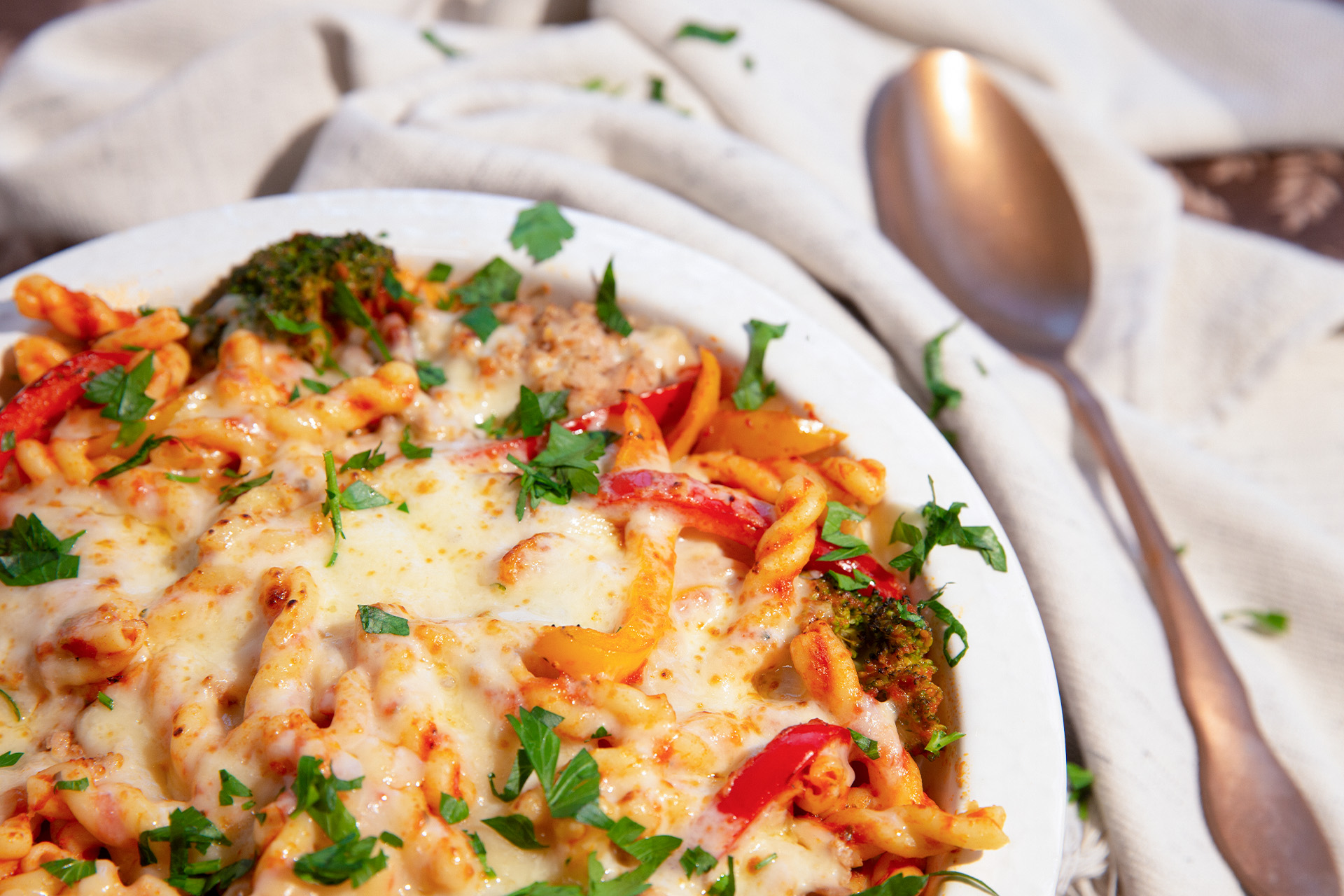 Tuna Pasta Bake
Ingredients
200g short pasta of your choice 

 

2 tbsp olive oil

 

1 white onion, diced

 

2 cloves of garlic, thinly sliced

 

1 broccoli crown, roughly chopped

 

2 bell peppers, diced

 

3 cans (80g) Ocean's Solid Light Tuna in Basil Infused Oil, drained

 

1 jar (530ml) Authentica Siciliana Sauce

 

1 ½ cups mozzarella cheese, grated

 

½ cup parmesan cheese, grated

 

3 tbsp basil, thinly sliced for garnish

 

Salt and pepper to taste

 
Directions
Preheat the oven to 350°F. Coat a 9×13" baking dish with oil.

 

Bring a large pot of salted water to a boil. Once boiling, add the broccoli and cook for 1 minute. Remove, place in a strainer and run over with cold water until cooled. 

 

Bring the salted water back to a boil and cook pasta until al dente. Reserve ½ cup pasta water, drain and set aside. 

 

Meanwhile, heat olive oil in a pan over medium-low heat. Add the onion, garlic and green pepper, season with salt and pepper and saute until softened, 8-10 minutes. 

 

Add the Authentica sauce, tuna and cooked broccoli and bring to a simmer. Cook for another 5 minutes. 

 

Add the cooked pasta to the sauce with the reserved pasta water and stir to combine. 

 

Transfer the pasta to the baking dish and top with the shredded mozzarella and parmesan. Cover with foil. 

 

Bake for 20 minutes. Uncover and bake for an additional 15-20 minutes or until the cheese is melted and bubbling. 

 

Let sit for 10 minutes before serving. Sprinkle with fresh basil and cracked pepper, to garnish. 

 
Recipe Reviews