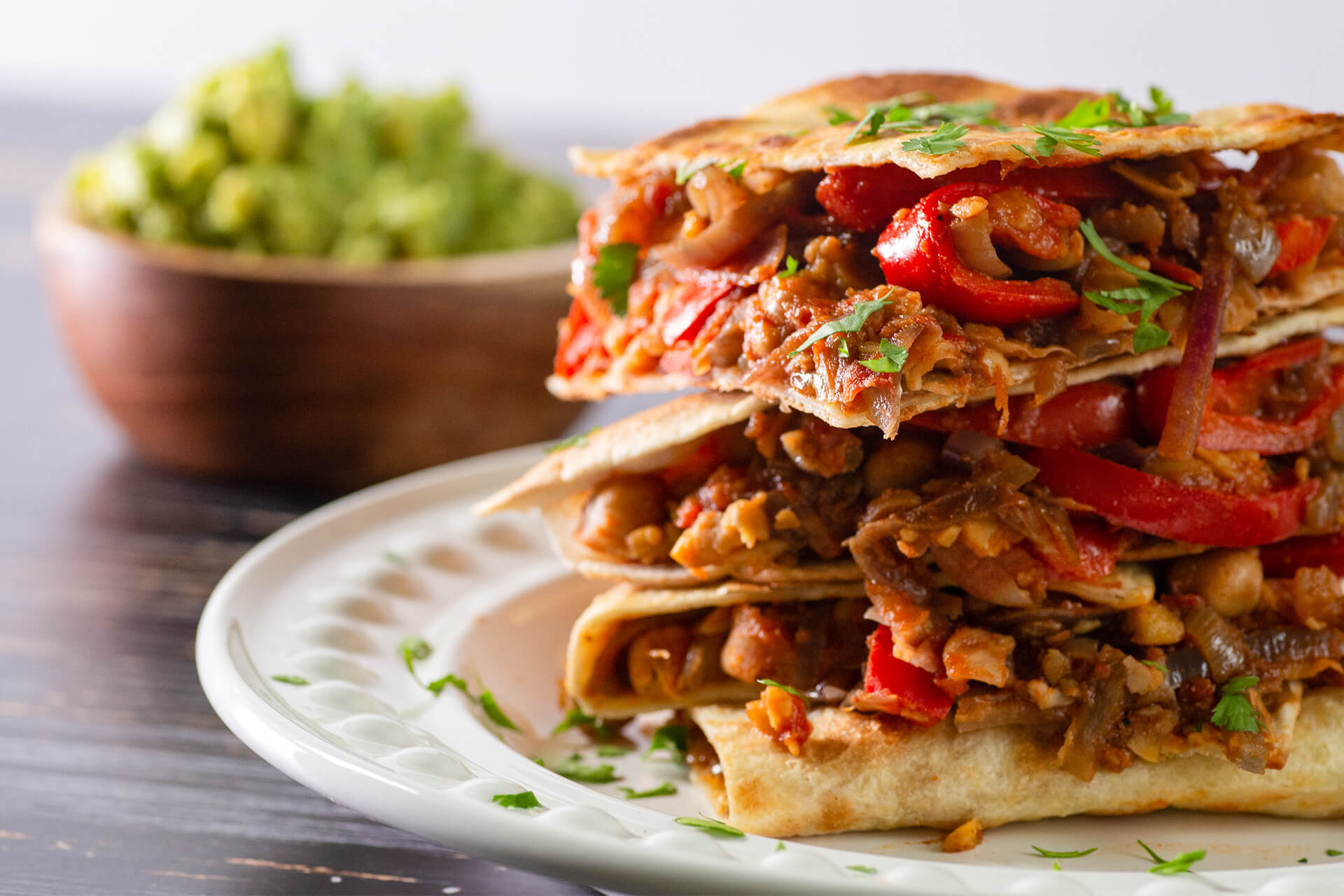 Vegan Quesadilla
This delicious vegan quesadilla recipe is for everyone to enjoy! Loaded with veggies, the best Italian tomato sauce, and served with a simple and delicious guacamole. So much goodness in every bite.
Ingredients
FOR GUACAMOLE:
2 avocados
Pinch of salt
2 tbsp lemon juice
1 tbsp olive oil
FOR QUESADILLAS:
4 tortillas
3 tbsp olive oil
1 red onion, thinly sliced
1 red pepper, thinly sliced
1 tsp cumin
½ tsp chili flakes
1 tsp chili powder
1 can chickpeas, drained and rinsed
1 cup (530ml) Authentica Arrabiata Sauce
1 cup cilantro, roughly chopped
Salt and pepper, to taste
Directions
To make the guacamole, combine all ingredients in a small bowl and mash with a fork. Taste for seasoning and adjust if necessary.
Heat 1 tbsp olive oil over medium-low heat.
Add onion and cook for 15 minutes, stirring frequently. You want to caramelize the onion without burning it.
Add red pepper, cumin, chili flakes, and chili powder and continue to cook for another 10 minutes until the peppers are softened.
Move the pepper and onion mixture to the side and add in the chickpeas in the open space. Season with salt and use a fork or potato masher to mash the chickpeas. Once they have broken down, mix with onion pepper mixture.
Mix in the Authentica Sauce and cook for 10 minutes. Season with salt and pepper.
Remove from heat. Heat ½ tbsp olive oil in a clean pan.
Place one tortilla down and top with ¼ of the onion pepper chickpea mixture and top with cilantro. Once it has formed a golden brown crust, fold one side of the quesadilla over and press down firmly to seal.
Serve with guacamole.
Recipe Reviews