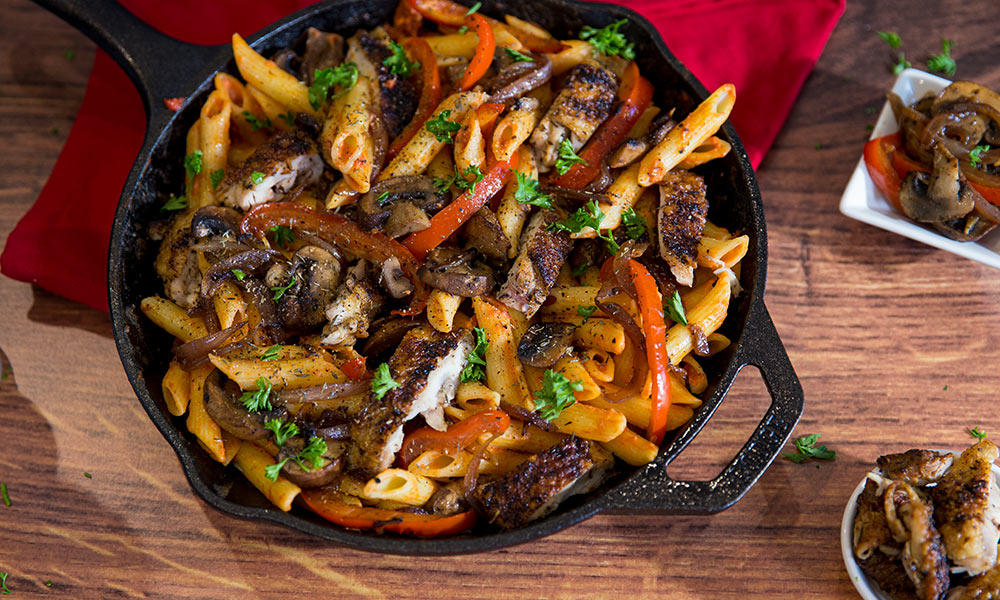 One Pot Cajun Pasta
Ingredients
FOR THE CAJUN SEASONING:
1 tsp dried oregano
1 tsp dried thyme
1 tsp garlic powder
1 tsp onion powder
1 tsp smoked paprika
½ tsp cayenne (*optional)
½ tsp salt
½ tsp black pepper
FOR THE PASTA:
450 g penne
2 tbsp neutral oil (grapeseed, canola or avocado)
4 boneless chicken thighs, cut into strips
½ red onion, thinly sliced
2 cups mushrooms, sliced
1 red bell pepper, thinly sliced
1 jar (530ml) Authentica Arrabiata sauce
1 cup heavy cream
¼ cup parsley, roughly chopped
Salt and pepper, to taste
Directions
Make the cajun seasoning by mixing all of the spices in a small bowl. Rub half of the seasoning mixture onto chicken thighs.
Cook pasta according to directions on the package. Reserve one cup of pasta water before draining the noodles.
Heat 1 tbsp of oil in a medium pan over medium-high heat.
Add the chicken to the pan. You should hear a sizzle. Let chicken cook for 4 minutes without stirring to allow it to brown. Flip and cook for 4 minutes on the other side, remove from the pan and set aside. Do not clean the pan.
Heat the remaining 1 tbsp oil in the same pan over medium heat. Add onion and scrape up any browned chicken bits from the bottom of the pan. Cook for 5-6 minutes. Do not stir too often to allow the onion to brown.
Add the mushrooms and bell pepper and cook for 6 minutes, not stirring too often. Season with salt and pepper.
Add the cooked chicken, Authentica sauce and cream. Bring to a simmer.
Add in the pasta and the reserved pasta water and toss to combine. Cook for 2-3 minutes or until the sauce is thick and glossy.
Finish with parsley and cracked black pepper and serve.
Recipe Reviews