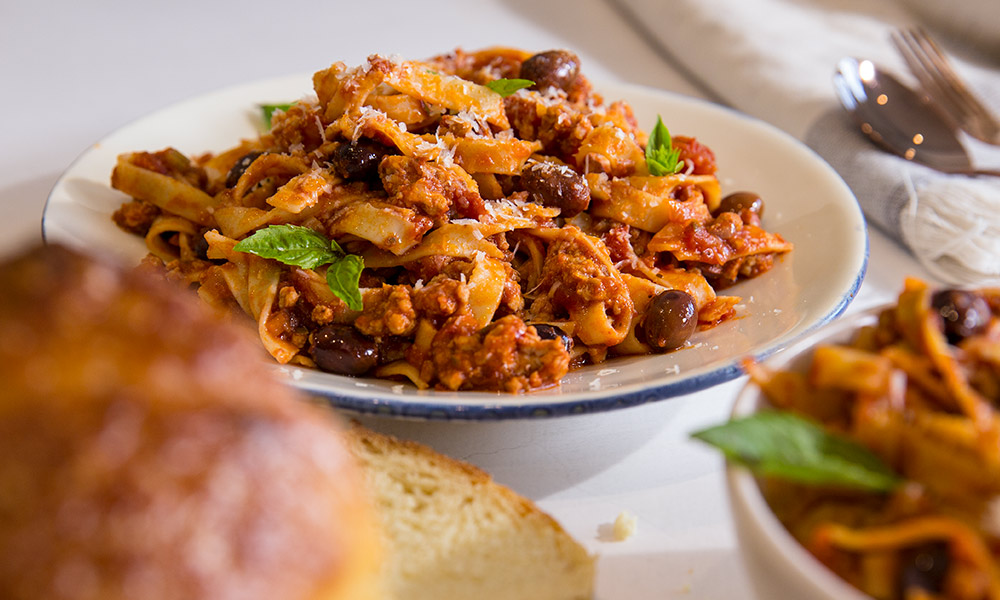 Italian Ragu
Ingredients
450g pappardelle or tagliatelle
2 tbsp olive oil
1 lb ground pork
1 yellow onion, diced
3 cloves garlic, sliced
1 fennel bulb, diced
1 carrot, diced
2 celery stalks, diced
1 tbsp fennel seed
½ tsp chili flakes
3 tbsp tomato paste
½ cup red wine
1 jar (530ml) Authentica Puttanesca Sauce
Salt and pepper to taste
½ cup parmesan, grated
Directions
Cook pappardelle according to directions on the package. Reserve one cup of the pasta water.
Heat 1 tbsp of the olive oil in a dutch oven or large pan over medium-high heat. Cook the pork for about ten minutes or until browned and set aside. Do not clean the pot.
Heat the remaining olive oil over medium-low heat. Add the onion, garlic, fennel, carrot, celery, fennel seeds and chili flakes and cook for 15 minutes, stirring occasionally. Season with salt and pepper.
Add the pork back in with the tomato paste. Cook for five minutes.
Add the red wine and use a spoon to scrape any browned bits from the bottom of the pan. Cook for three minutes.
Add the Authentica Puttanesca sauce and season with salt and pepper. Simmer for 10 minutes.
Add the noodles directly into the sauce with the reserved pasta water and toss to combine.
Garnish with parmesan and serve.
Recipe Reviews