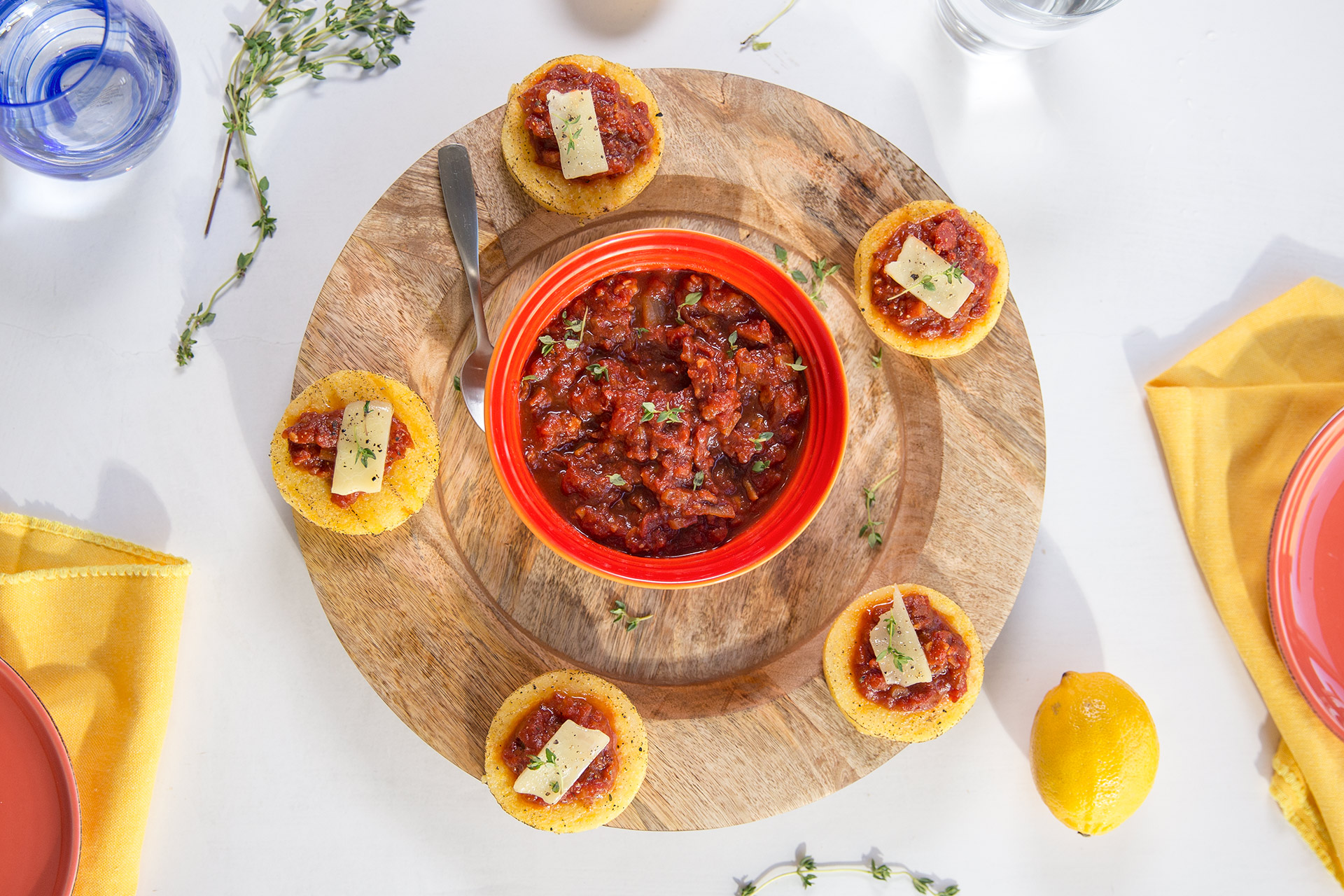 Polenta Bites
Ingredients
2 tbsp olive oil
2 (16 oz) tubes prepared polenta, cut into ½ inch coins
200g pancetta or bacon, diced
2 tbsp red wine vinegar
3 medium shallots, diced
3 garlic cloves, minced
¼ tsp chili flakes
¼ tsp cracked pepper
½ cup maple syrup
¼ cup + 2 tbsp balsamic vinegar
1 jar (530ml) Authentica Arrabiata Sauce
4 sprigs fresh thyme
Aged cheddar, thinly sliced
Salt and pepper to taste
Directions
Preheat a grill or grill pan to medium-high heat.
To make the bacon and tomato jam, add the pancetta or bacon to a small pot over medium-high heat and cook, stirring occasionally, for 10 minutes or until golden brown and crispy. Add 2 tbsp balsamic vinegar and stir, making sure to scrape up any browned bits from the bottom of the pot.
Add the shallots, garlic, chili flakes and cracked black pepper and cook for 5 minutes, or until shallots are translucent.
Add in the Authentica sauce, maple syrup, remaining balsamic vinegar, 2 thyme sprigs and bring to a boil. Turn heat down to low and gently simmer uncovered for 45 minutes or until a thick jam consistency is formed. Season with salt and stir occasionally. Remove the sprigs of thyme.
Brush the polenta coins lightly with oil and season with salt and pepper. Place on the grill and cook for 6-7 minutes per side until grill marks are visible. Do not move around while cooking.
Remove from the grill and top each piece of polenta with the bacon and tomato jam and top with a thin slice of cheddar. Garnish with fresh thyme.
Recipe Reviews