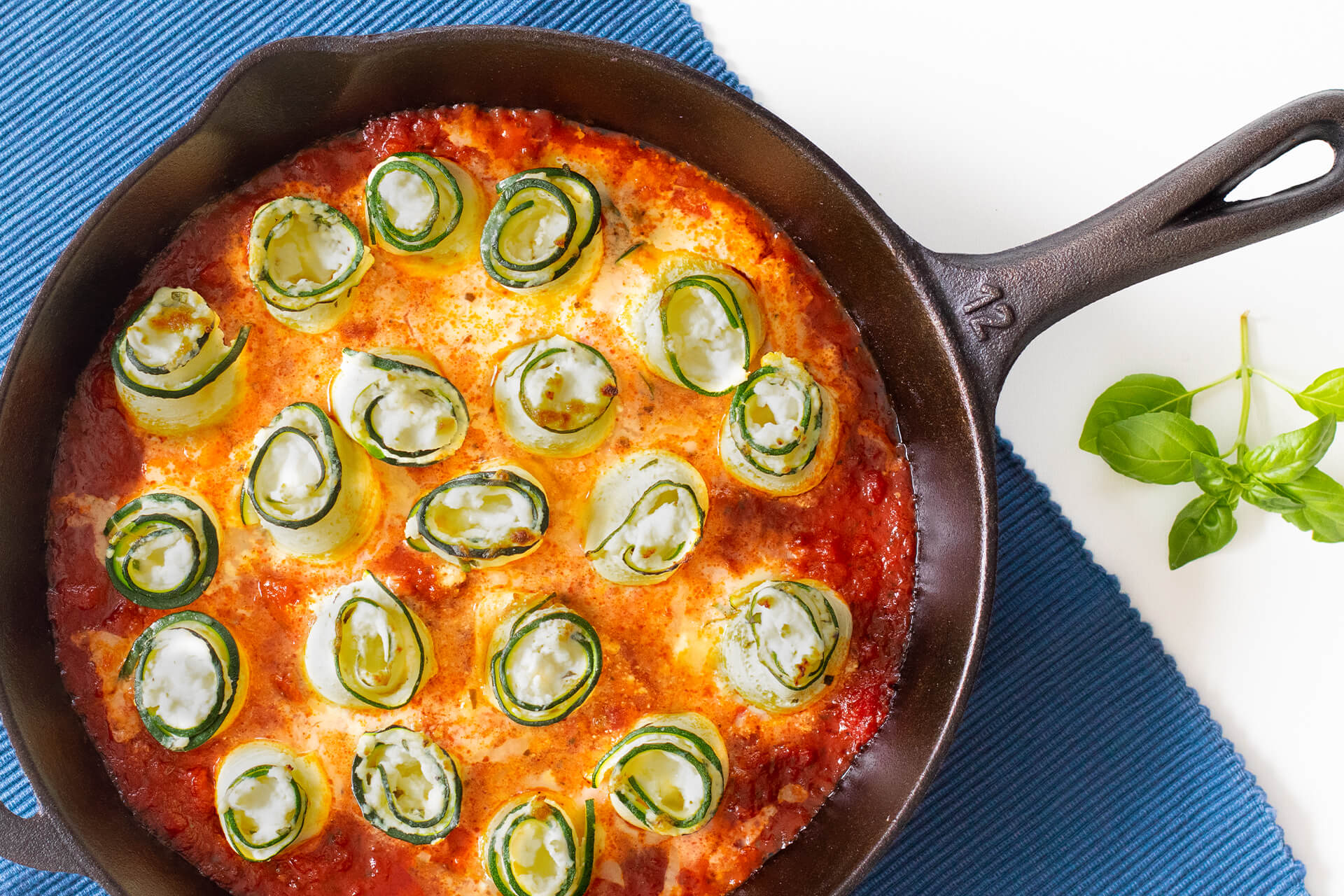 Zucchini Lasagna
There are many food holidays, but there's only one that matters. Celebrate a guilt-free Lasagna Day with our low-carb vegetarian take on the Italian classic: Italian Zucchini Lasagna Recipe.
Ingredients
2 large zucchini, trimmed and sliced lengthwise into ¼ cm strips
1 tbsp olive oil
1 cup full-fat ricotta cheese
½  cup freshly grated Parmesan
2 large egg
½ cup fresh basil, finely chopped
Coarse salt and freshly cracked black pepper to taste
2 large cloves garlic, minced or grated
1 1/2 cups Authentica Siciliana Pasta Sauce
½ cup shredded mozzarella cheese
Directions
Preheat oven to 400 degrees F.
Line a baking sheet with paper towels. Lay zucchini in a single layer, sprinkle with salt and let stand 15 minutes. This will draw the moisture from the zucchini to prevent it from getting soggy when cooking.
In a medium bowl, combine ricotta, parmesan, egg, basil, and garlic. Season with salt and pepper, to taste.
Spread 1  cup tomato sauce onto the bottom of a large cast-iron pan
To make your roll-ups, Spread approx. 1 tablespoon ricotta mixture along each zucchini slice. Roll up and place in your baking dish facing up (if you're having troubles keeping the roll-ups closed, lay them on their side with the end of the roll-up facing down)
Pour the remaining sauce over top of the roll-ups and sprinkle with mozzarella cheese
Bake for 20-25 minutes, until heated through. Turn the oven to broil and cook an additional 3-4 minutes to get the cheese bubbly and golden brown.
TIP:
Swap zucchini for eggplant for a different twist!
Recipe Reviews