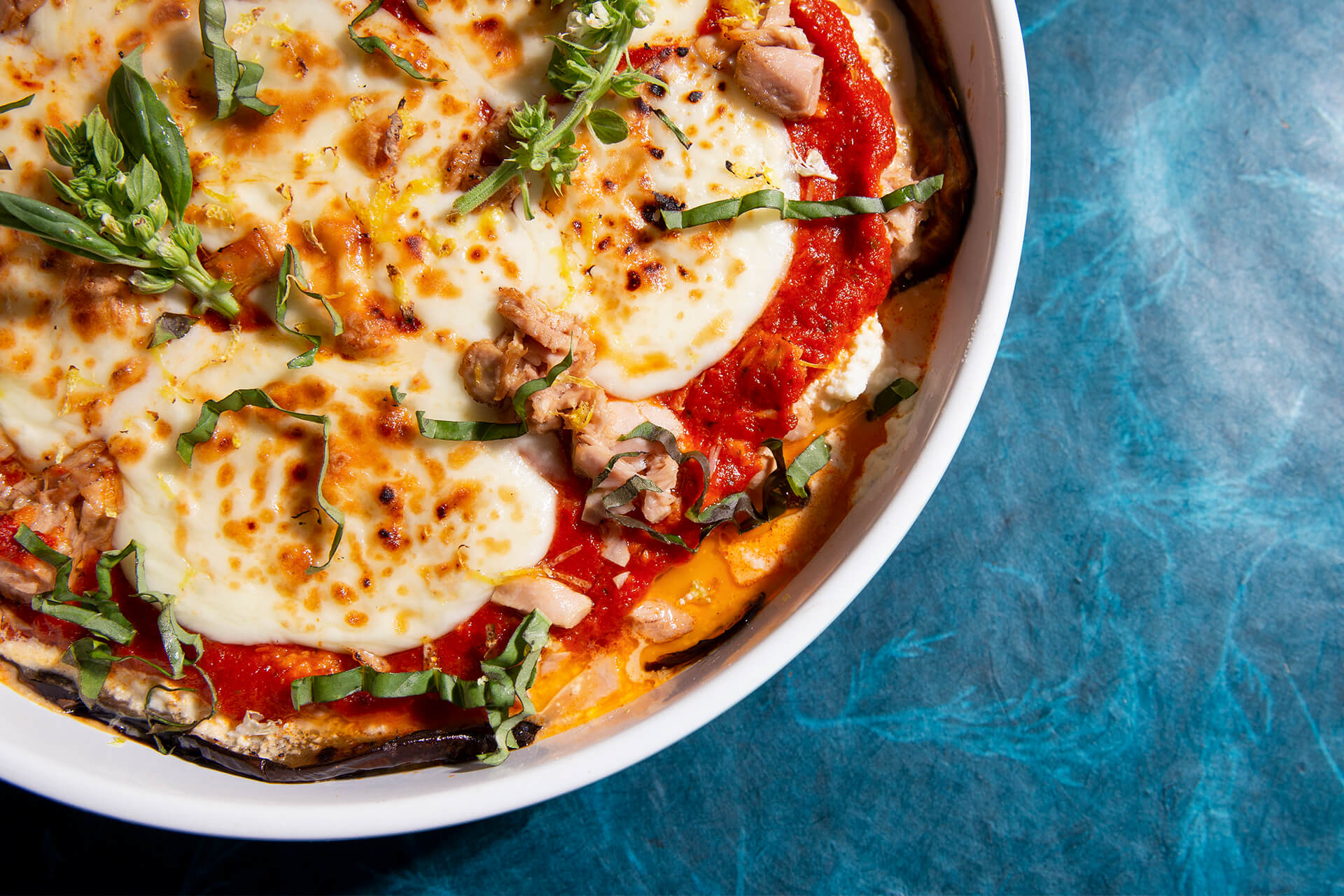 Tuna Lasagna
Ingredients
2 large 

eggplant

s

, sliced lengthwise into ½ inch strips

 

5 tbsp olive oil, divided

 

1 red onion, finely diced

 

4 garlic

 cloves, 

minced

 

½ tsp chili flakes

 

3 tbsp tomato paste

 

1 jar 

(530ml) 

Authentica

 

Siciliana

 sauce

 

6 cans (80g) Ocean's Tuna in Olive Oil

 

2 cups ricotta cheese

 

1 egg

 

1 cup fresh mozzarella cheese, sliced or grated

 

¼ cup basil, finely chopped

 

Salt and pepper to taste

 
Directions
Preheat the oven to 425°F. 

 

Arrange eggplant on 2 lightly oiled baking sheets in a single layer. Make sure they are not overlapping. Drizzle with 3 tbsp olive oil. Bake for 25 minutes, flipping halfway through, or until golden brown on both sides. Season with salt. 

 

Meanwhile, heat r

emaining olive oil in a large pot over medium-low heat. Add the onion and cook for 10 minutes until fragrant and softened. Add the garlic, anchovy and chili flakes and 

sauté

 for another 5 minutes. Add the tomato paste and cook for 2-3 minutes longer.

 

Add t

he tuna and 

Authentica

 sauce to the large pot. Bring to a boil, turn down to simmer and cook for 10 minutes. Season with salt and pepper.

 

In a small bowl, mix the ricotta and egg until well combined.

 

Assemble the lasagna in a 9x13inch baking dish. Spread ⅓

 of the tomato sauce evenly on the bottom. Top with a layer of eggplant. Add ½ of the ricotta mixture and another ⅓ of the sauce. Add another layer of eggplant, the last of the ricotta mixture and the last of the sauce. Top with mozzarella and cracked blac

k pepper. 

 

Bake for 20 minutes or until the cheese is bubbling. Let cool for 10 minutes before cutting into it. 

 

Top with basil and serve. 

 
Recipe Reviews