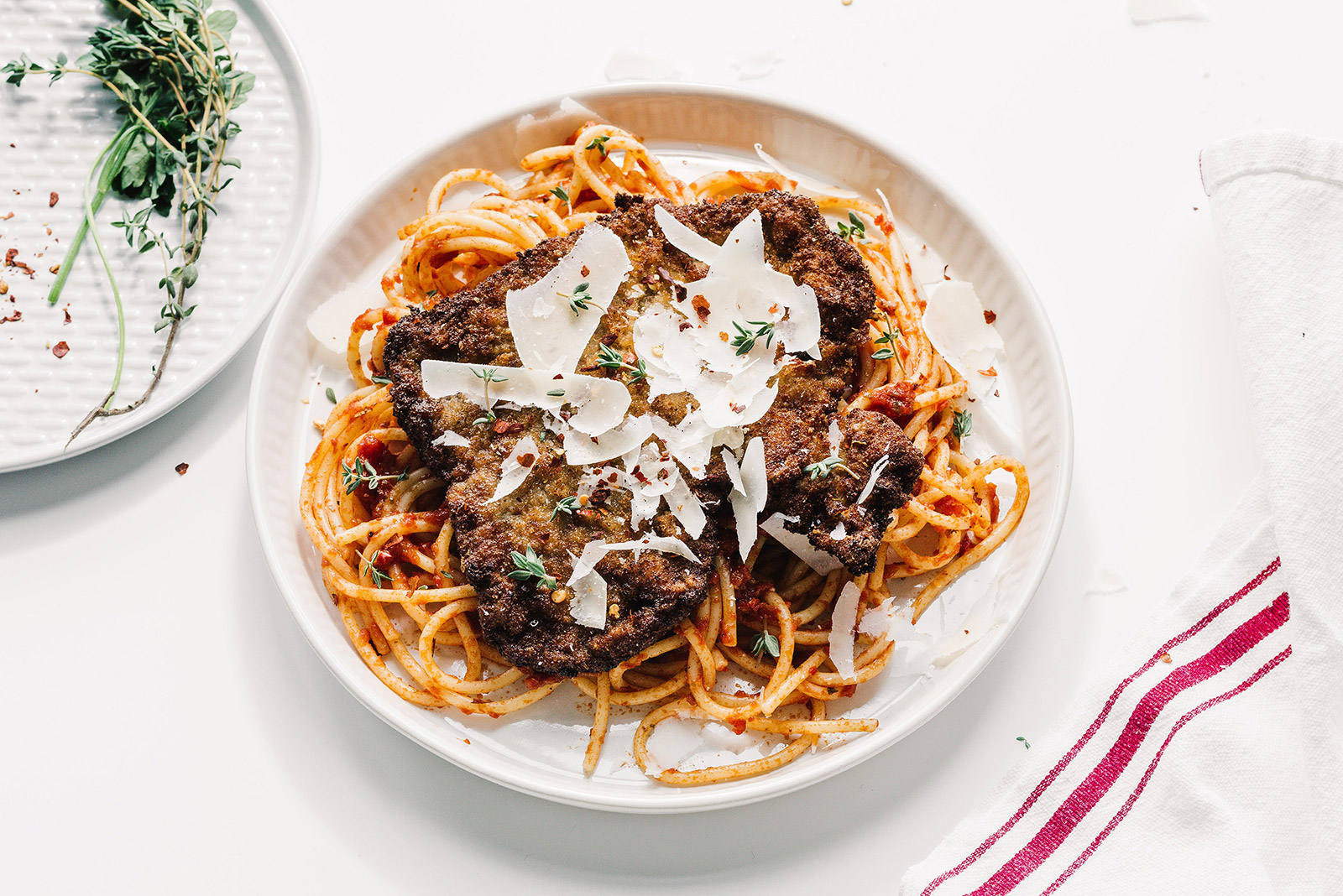 Steak Milanese With Spaghetti
A crispy breaded pan-fried steak Milanese topped with Parmigiano cheese served with Siciliana sauce on spaghetti. It's the perfect dinner for any day of the week! So what are you waiting for? Let's get cooking!
Ingredients
2 

large eggs,

lightly beaten

2 tablespoons 

finely grated parmesan cheese

4 

top round or sirloin steaks,

pounded to 1/8"

salt and freshly ground pepper

to taste

vegetable oil,

for shallow frying
Directions
Heat oven to 400°F.
Set up a breading station with three shallow dishes. One with flour, one with the egg, and one with the breadcrumbs mixed with the parmesan.
In a heavy, deep skillet, heat up a 1/4 inch oil over medium-high heat until oil reaches 350°F.
While the oil is heating, lightly pat the steaks dry with a paper towel. Season steaks with salt and pepper. Dip in the flour, shaking off excess, then in the egg, then in the breadcrumbs.
Gently add to the hot oil and cook until golden brown, flipping once, about 2-3 minutes. Remove from the oil and drain on paper towels or a wire rack.
Heat up Siciliana Sauce in a saucepan over medium heat. Cook spaghetti according to the package instructions. When pasta is done, drain well and toss with the sauce.
Serve the crispy beef over the pasta with shaved parmesan, crushed red peppers, and thyme.
NOTE: Use 1 or 2 jars of sauce depending on how saucy you like your pasta.
Recipe Reviews