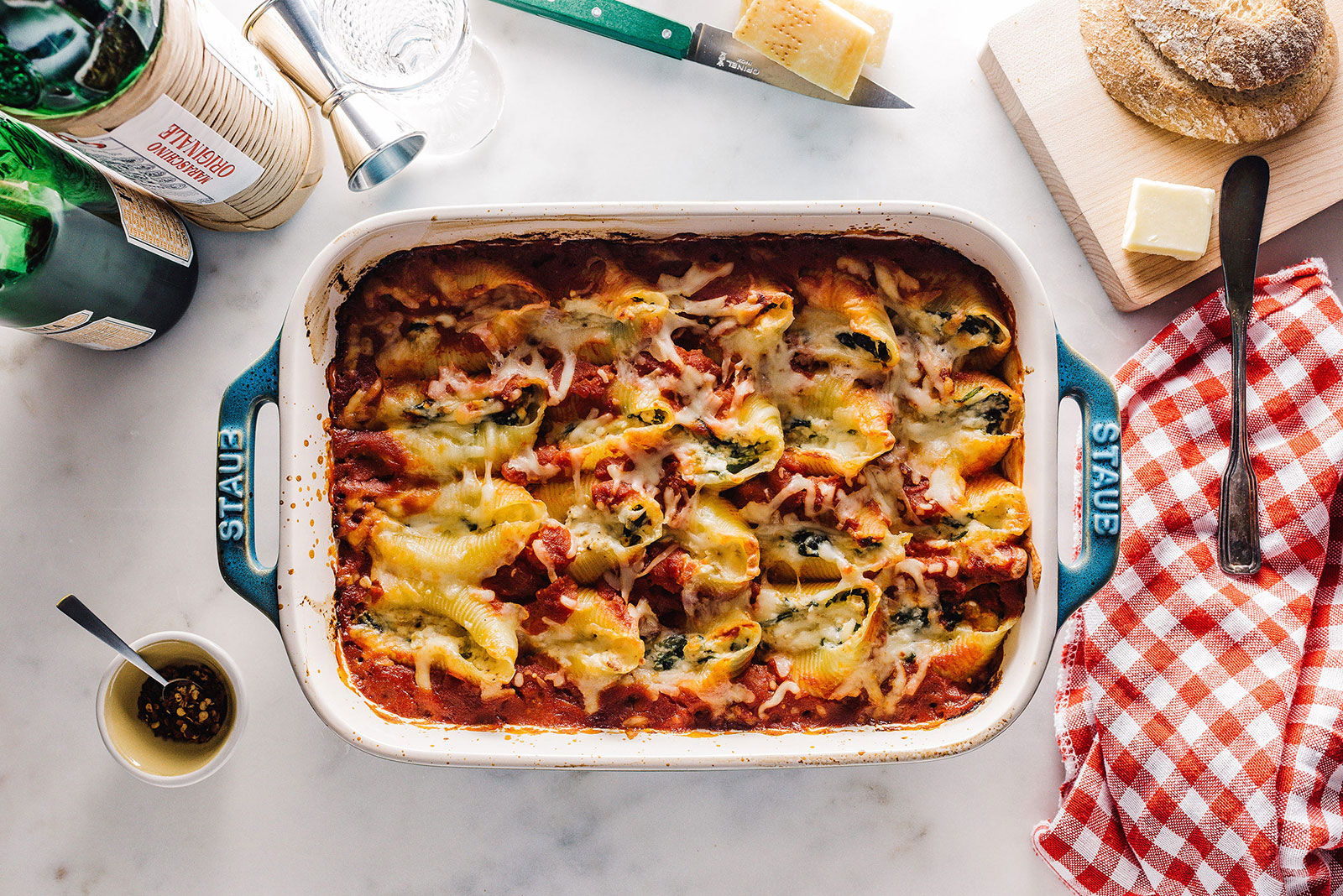 Spicy Stuffed Pasta Shells Conchiglioni al Forno
Is you are craving some comfort food, we have the perfect recipe for you to try! Spicy Stuffed Pasta Shells are extra cheesy stuffed shells with a hint of heat from our delicious Arrabiata sauce. So yummy!
Ingredients
20 jumbo pasta shells (cook a couple extra in case some of them don't make it)
1 tablespoon olive oil
1 onion
3 garlic cloves
1/2 tsp. crushed red pepper
150g fresh baby spinach
1 1/2 cups ricotta
1 1/2 cups grated mozzarella
1 large egg
1/4 tsp. salt
1/4 tsp. freshly ground pepper
1 jar (530ml) Authentica Arrabiata Sauce
Directions
Heat the oven to 400°F.
In a large frying pan or skillet, heat up the oil over medium-high heat. Add the onion and cook, stirring, until soft, but not brown, about 1-2 minutes. Stir in the garlic and crushed red pepper. Cook for 1 minute then add the spinach and cook until just wilted. Remove from the pan and let cool.
Cook the shells according to the package, rinse and drain well.
When cool enough to handle, squeeze all of the liquid out of the spinach. Place in a large bowl and mix with the ricotta, 3/4 cups of shredded mozzarella, and the egg. Season with salt and pepper.
Spread out 1 cup of Arrabiata Sauce in an oven-proof casserole dish and set aside. Stuff each shell with a generous amount of filling, placing the stuffed shells in the sauced dish. Top the shells with the remaining 1 cup of sauce and the remaining 3/4 cup shredded mozzarella.
Bake the dish for 30 minutes or until sauce is bubbly and cheese is golden. Remove and let cool slightly before enjoying!
Recipe Reviews