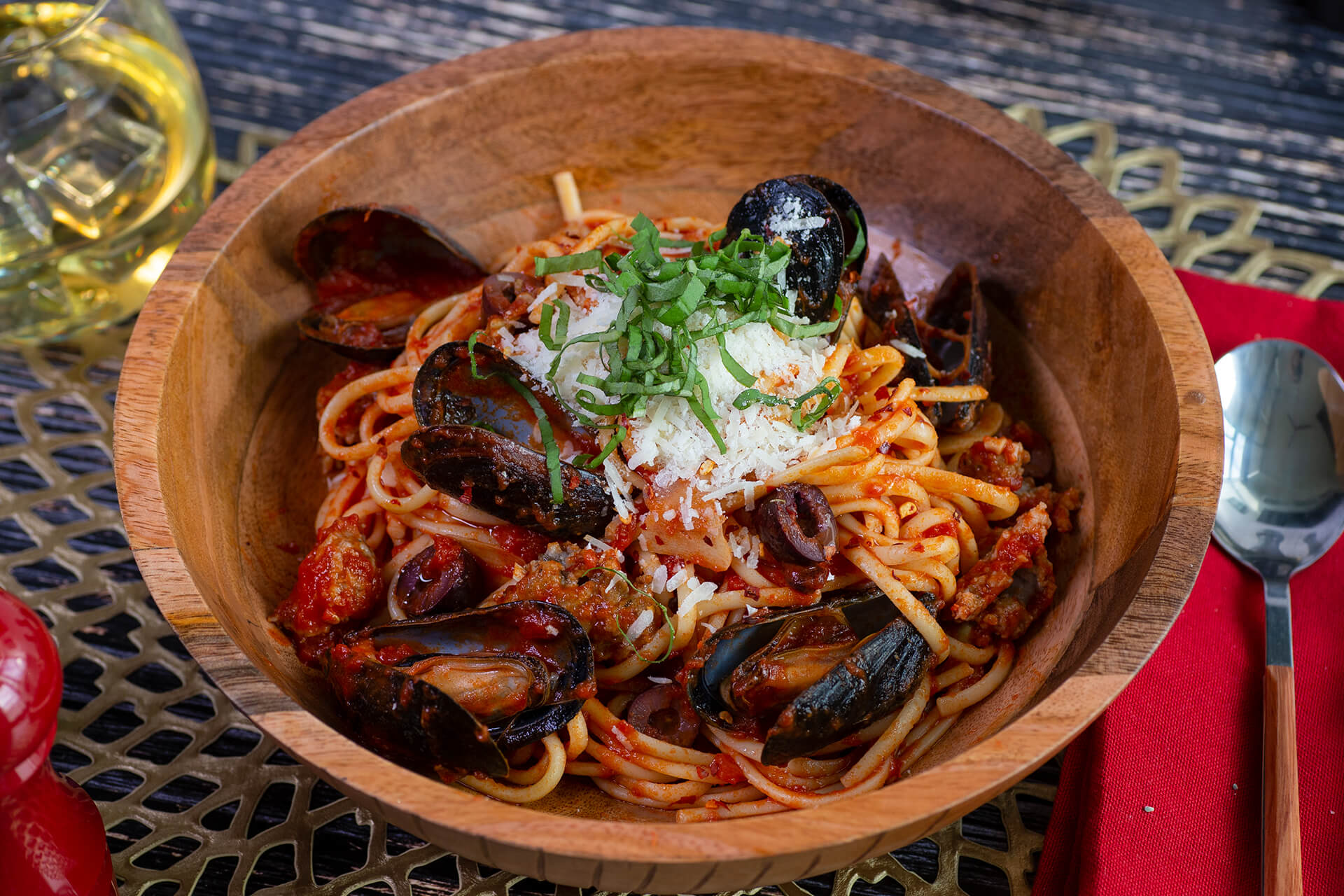 Spicy Pasta Alla Diavola with Mussels
A spicy and flavourful pasta alla diavola with mussels and clams that will leave you wanting more after every bite! So good, you can never stop at just one serving.
Ingredients
2 tbsp olive oil
2 spicy Italian sausages, casings removed, rough chopped
1 can (142g) Ocean's Baby Clams
2 shallots, diced
3 cloves garlic, sliced
2 tsp red chili flakes
2 tbsp tomato paste
1 jar (530ml) Authentica Arrabiata Sauce
1⁄2 cup kalamata olives, pitted
LINGUINE:
454g linguine
1 tbsp fresh lemon juice
1⁄2 cup fresh parsley, rough chop
1⁄2 cup pecorino romano, grated
Cracked black pepper, to taste
Directions
In a large skillet over medium-high heat, brown the sausage. Transfer to a paper towel and place in a bowl.
Drain the clams and add to the sausage in the bowl.
Turn heat down to medium-low, add shallots and cook until soft and translucent. Add garlic, chili flakes, and anchovy.
Break up anchovy with your spoon.
Add tomato paste and cook for 3 minutes.
Add a jar of Arrabiata sauce. Simmer over medium heat. Add sausage, clams, and olives to sauce.
Cook linguine in a large pot of salted water. Once al dente, use tongs to transfer linguine directly from boiling water into the sauce, add lemon juice and toss to coat. If you want your sauce to be thinner, add some of the pasta water.
Garnish with fresh parsley, pecorino, and cracked black pepper.
Recipe Reviews