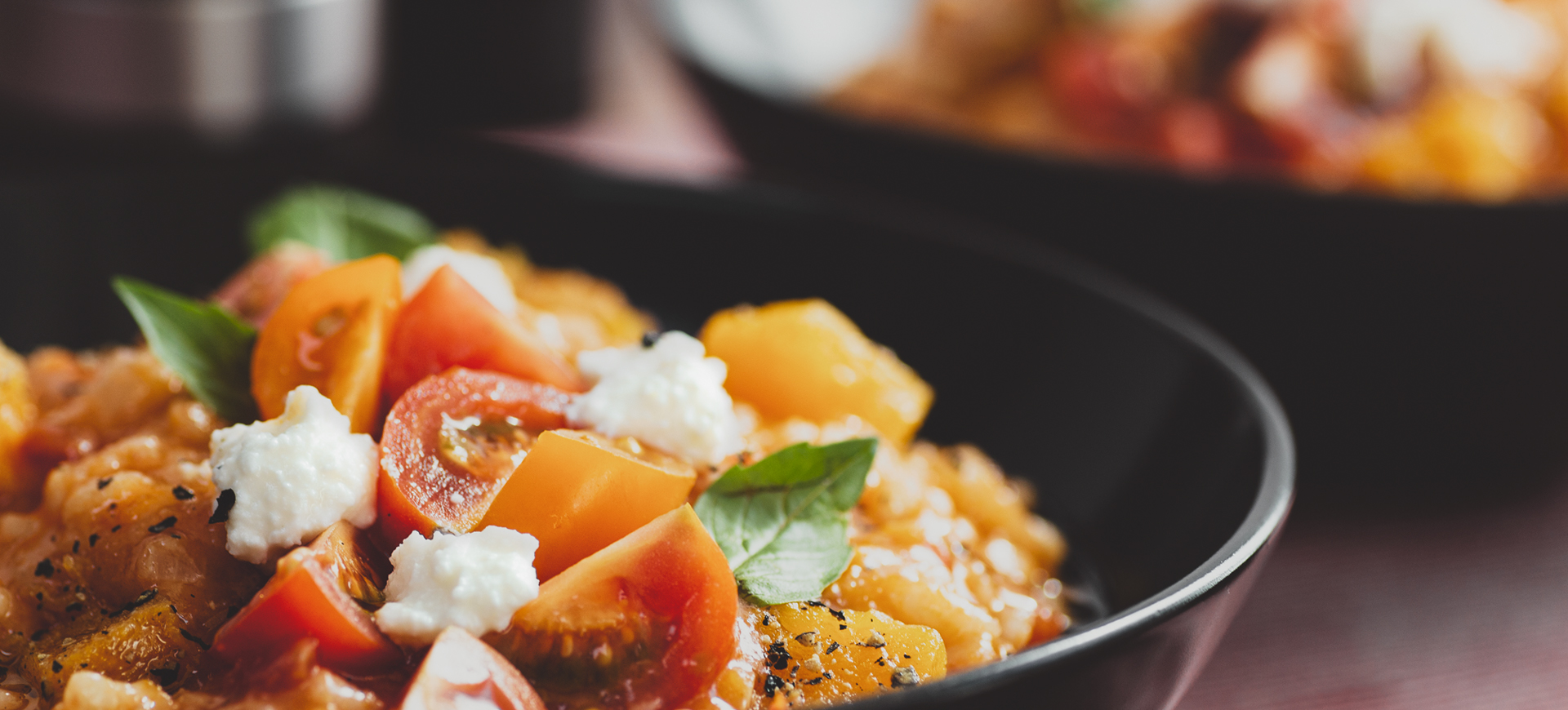 Spicy Butternut Squash Risotto
The Ultimate Fall Moment: taking the first bite of this spicy butternut squash risotto. Creamy, cheesy risotto with fresh off the patch butternut squash and a rich, tangy flavour of Arrabiata sauce. Did we mention this recipe is also super easy to make?
Ingredients
3 cups 

chicken or vegetable stock

1/2 cups

shallots,

finely chopped

2 cups 

arborio or carnaroli rice

1/2 – 3/4 cup 

shredded asiago cheese

1 – 2 cups 

butternut squash,

diced into ½-inch (1.25 cm) squares

Salt and freshly ground pepper

Garnish with chopped Italian flat-leaf parsley
Directions
In a saucepan, mix together Arrabiata Sauce and stock, heat over medium-low heat and keep to a simmer.
Heat olive oil and 2 tablespoons (30ml) butter in a heavy-bottomed saucepan over medium heat. Add shallots and rice and stir for a minute, until rice is coated, then add wine. Stir until the wine has evaporated.
Slowly add the hot Arrabiata Sauce and stock mixture a ladle at a time until absorbed by the rice. After about 12 to 15 minutes, stir in diced butternut squash and continue stirring, adding a bit more stock at a time, until squash is fork-tender and the rice is al dente, or still retains a bite, about another 10-15 minutes. The risotto should have a thick soup consistency. Stir well to prevent the rice from sticking to the bottom of the saucepan. If too thick, add a bit more hot chicken stock till desired consistency.
Stir in the asiago cheese and remaining butter and season to taste. Serve immediately in warm serving dishes. Garnish with chopped flat-leaf parsley.
Recipe Reviews