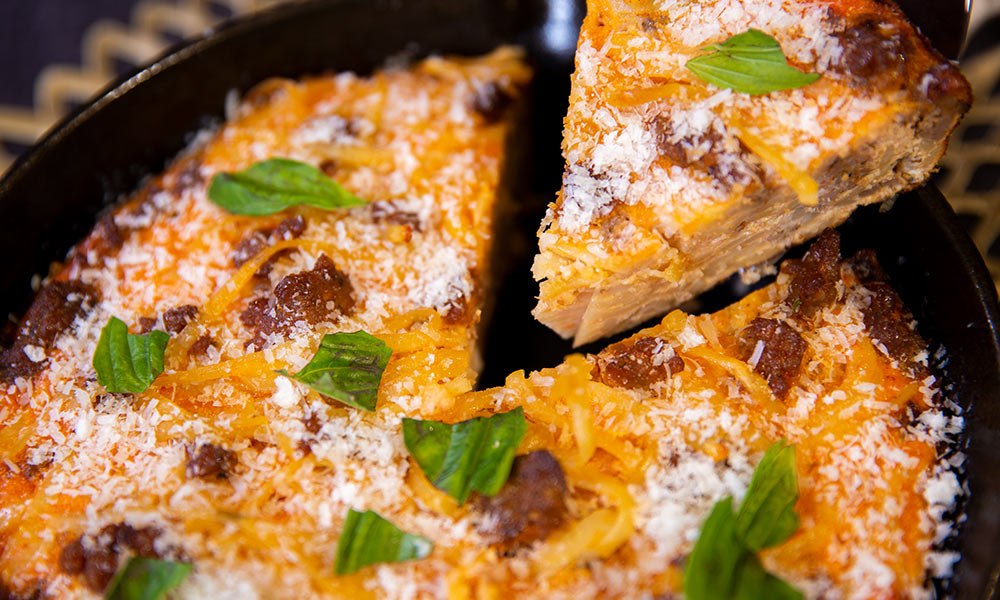 Spaghetti Frittata
Ingredients
100g spaghetti, broken in half
2 tbsp olive oil
1 tbsp unsalted butter
2 Italian sausages, casings removed
1 leek, white parts only, thinly sliced and rinsed
2 cloves garlic, thinly sliced
8 eggs
⅓ cup ricotta
1 jar (530ml) Authentica Arrabiata sauce
½ cup parmesan, grated
¼ cup basil, roughly chopped
Pepper, to taste
Directions
Cook pasta according to package directions minus two minutes. When done cooking, drain and run under cold water. 

Preheat the oven to 350F.

Heat 1 tbsp of olive oil in a cast iron skillet over medium heat. Add the sausage, break up with a spoon into bite-sized pieces and saute until browned and cooked through, 7 minutes. Set aside. 

In the same skillet, add the leeks and garlic and cook until translucent, 5 minutes. Add to the bowl with the sausage. Clean the skillet.

In a large mixing bowl, beat the eggs. 

Add the sausage and leek mixture, ricotta, 1 cup of the Arrabiata sauce, cooked spaghetti and half of the parmesan to the eggs and mix everything to combine. Season with pepper. 

Melt the butter and remaining olive oil in the same skillet over medium-high heat. Using a spatula or pastry brush, swirl the butter and olive oil so it is evenly coating the skillet including the sides.

Add the egg mixture to the pan and use a spatula to even it out. After two minutes, turn the heat down to medium-low. Cook for five minutes or until the bottom has begun to firm up.

Transfer the skillet to the oven and cook for 15-17 minutes or until the top is firm and the frittata is cooked through.

In a small saucepan, warm the rest of the Arrabiata sauce. 

Garnish with basil and the remaining parmesan. Serve with the remaining Arrabiata sauce.
Recipe Reviews