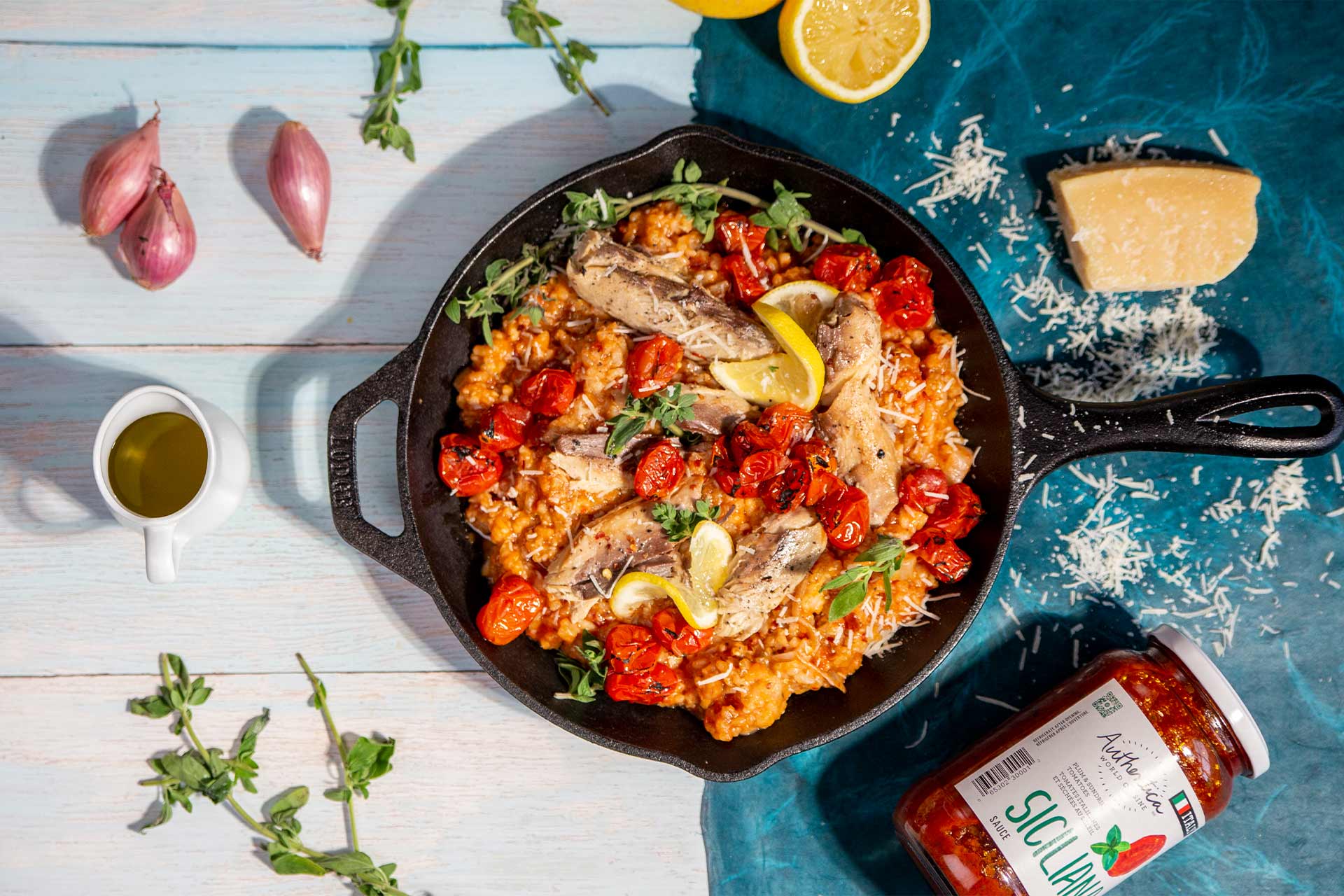 Seafood Risotto
Ingredients
3 tbsp unsalted butter
2 shallot, thinly sliced
3 garlic cloves, thinly sliced
½ tsp chili flakes
1 tsp fennel seeds
2 tbsp red or white wine vinegar
1 ½ cups Arborio rice
4 cups vegetable broth
1 jar (530ml) Authentica Siciliana sauce
1 cup cherry tomatoes
1 cup parmesan cheese, grated
2 cans (115g) Gold Seal Mackerel in Olive Oil
2 tbsp fresh oregano, roughly torn
Salt and pepper to taste
Directions
Melt butter in a dutch oven or heavy-bottomed pot over medium-low heat.
Add the shallots and cook for 3 minutes or until soft and translucent. Add the garlic, anchovy, chili flakes and fennel seeds and cook for 2 minutes or until fragrant.
Add the red wine vinegar and use a wooden spoon to scrape up any browned bits from the bottom of the pan.
In a separate pot, bring the vegetable broth and Siciliana sauce to a simmer over medium-high heat.
Once the vinegar has evaporated, add the rice to the shallot mixture and stir to combine. Cook for 5 minutes or until the rice begins to turn translucent on the edges. Turn the heat down to low.
Add the broth mixture ½ cup at a time and stir until all of the liquid has been absorbed. Repeat this step until all of the broth has been used, and the rice is almost al dente, about 30 minutes.
Add the cherry tomatoes and cook another 10 minutes until the rice is al dente.
Stir in the mackerel and parmesan cheese. Season with salt and pepper.
Garnish with fresh oregano.
Recipe Reviews