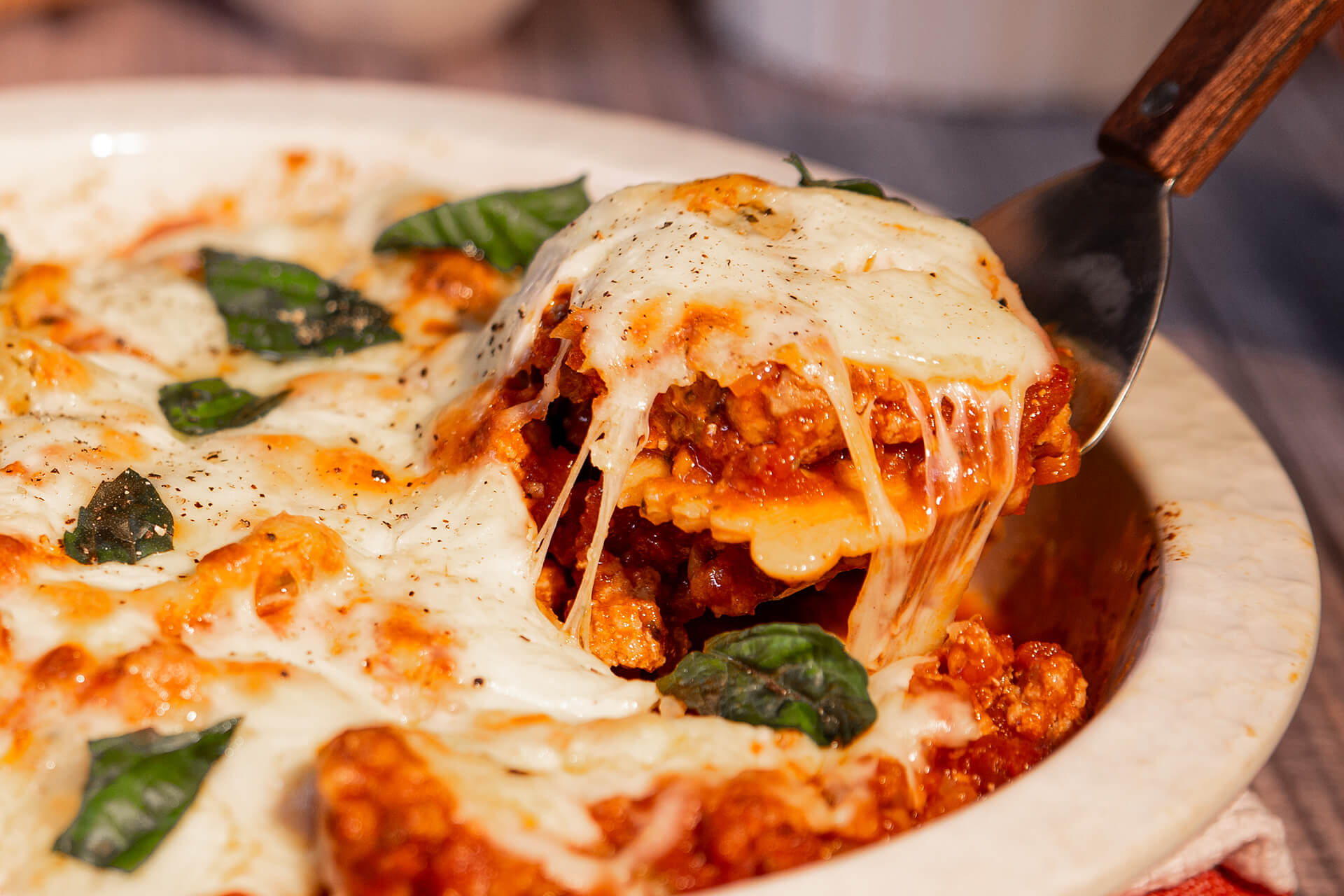 Ravioli Lasagna
Ingredients
500 g packaged ravioli of choice, cheese filled
2 tbsp olive oil
½ lb ground beef
½ lb ground pork
½ white onion, diced
1 celery stalk, diced
1 carrot, diced
3 clove garlic, minced
2 tbsp tomato paste
1 jar (530ml) Authentica Arrabiata Sauce
1 ½ cup mozzarella cheese, sliced or grated
Fresh basil, torn to garnish
Directions
Cook the ravioli for half the time instructed on the package. It will continue to cook in the oven. Drain, run under cool water and set aside.
Heat olive oil in a medium pan or skillet over medium-high heat.
Season the beef and pork with salt and pepper. Add the ground beef and pork to the pan and cook until browned, 10 minutes. Remove and set aside. Do not clean the pan. Turn the heat down to medium-low.
Heat the remaining oil in the same pan. Add onion, celery, carrots and garlic, scraping any browned bits from the bottom. Cook for 15 minutes or until softened.
Add the beef and pork back to the pot along with the tomato paste and cook for 4-5 minutes. Preheat the oven to 350°F.
Add the Authentica Arrabiata Sauce and bring to a very gentle simmer for a minimum of 30 minutes.
Lightly oil a ceramic baking dish. Scoop 1 cup of the sauce into the bottom of the dish and top with a single layer of ravioli. Layer more meat sauce on top, followed by some of the grated cheese and then ravioli. Repeat this step until you've used up all of the ingredients. Finish with a layer of mozzarella.
Wrap with foil and place on a baking sheet to catch any overflow. Bake for 35 minutes. Turn temperature up to 425°F, remove foil and bake until golden brown and bubbling, 10 minutes. Let sit for 15 minutes before serving.
Garnish with torn basil.
Recipe Reviews