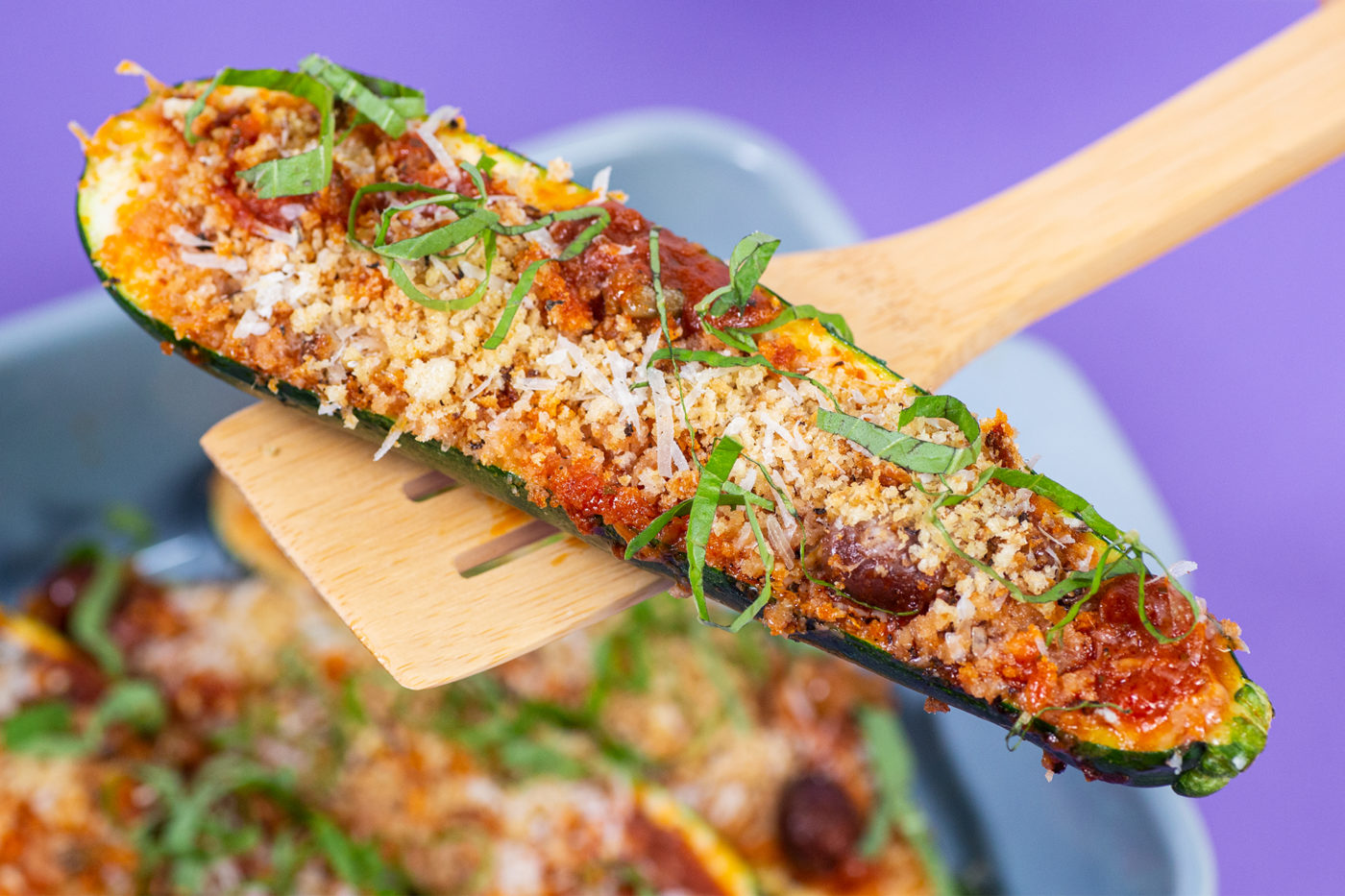 Puttanesca Stuffed Zucchini Boats
Stuffed zucchini boats are a delicious and nutritious low carb option for meals! Baked to perfection with a ton of aromatic flavours! So what are you waiting for? Get cooking!
Ingredients
3 zucchinis
1 jar (530ml) Authentica Puttanesca Sauce
2 tbsp olive oil
2 medium shallots, thinly sliced
3 garlic cloves, thinly sliced
1 red pepper, small dice
1 tbsp oregano
1 cup parmesan, grated
2 cups fresh breadcrumbs
Fresh basil, to garnish
Directions
Preheat oven to 375°F. Lightly grease a casserole dish and set aside. Cut each zucchini in half lengthwise. Using a spoon, scoop out about half of the flesh and brush each half with olive oil.
Season with salt.
In a pan, heat 1 tbsp olive oil over medium heat.
Add the shallot to the pan and cook until translucent, 3 minutes. Add garlic and red pepper and cook until fragrant, another 3 minutes. Lightly season with salt, pepper, and oregano.
Add sauce to the pan and cook for 5 minutes.
Using a paper towel, dab off any moisture that has accumulated on the surface of the zucchini. Place zucchini in the casserole dish, fill each with sauce and cover the dish with foil. Bake for 30 minutes.
Remove from the oven and turn the oven to broil. Remove foil and top the zucchini boats with parmesan and breadcrumbs.
Broil for 3 minutes. Keep an eye on them to make sure the top doesn't burn.
Garnish with fresh basil and cracked black pepper.
Recipe Reviews