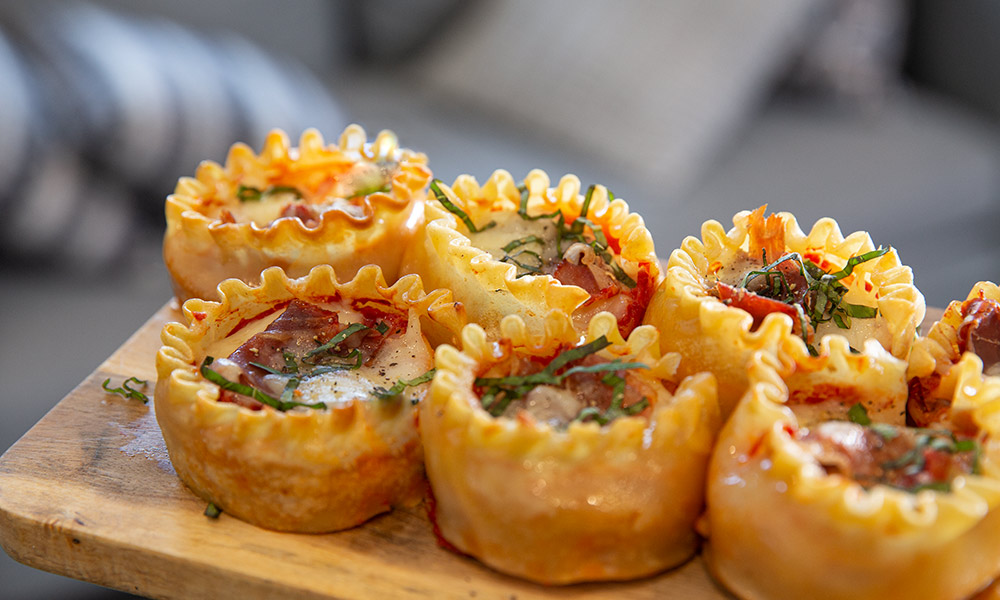 Muffin Tin Lasagna
Ingredients
Cooking spray or 2 tbsp olive oil
15 oz lasagna noodles
¼ cup ricotta
¼ cup parmesan, grated
1 tsp dried oregano
1 ½ cups Authentica Siciliana sauce
3oz prosciutto, roughly torn
¾ cup smoked mozzarella, grated
Fresh basil, to garnish
Salt and pepper, to taste
Directions
Preheat the oven to 375°F.
Spray a 12 portion muffin tin with cooking spray or use a pastry brush to brush with olive oil.
Cook the lasagna noodles until a few minutes before they're done. Once done cooking, drain and run under cold water. Cut 6 of the sheets in half lengthwise to make 12 long strips. With the remaining sheets, cut out 36 circles with the same diameter of the muffin tin.
In a small bowl, mix the ricotta, parmesan and oregano together.
Place a circular piece of pasta in the bottom of each muffin tin. Wrap each long strip into a ring to border the wall of each cup.
Divide half of the Siciliana sauce into the bottom of each cup and top with half of the prosciutto. Layer another piece of circular pasta on each. Add the ricotta mixture and layer with another circular pasta piece. Finally top with the remaining sauce, the remaining prosciutto and the smoked mozzarella. Use the back of a metal spoon to press down on each cup. Finish each with cracked black pepper.
Bake for 18 minutes or until the edges are golden brown and the cheese is bubbling.
Remove from the oven and garnish with basil.
Let set in the muffin tin for 10 minutes before removing.
Recipe Reviews