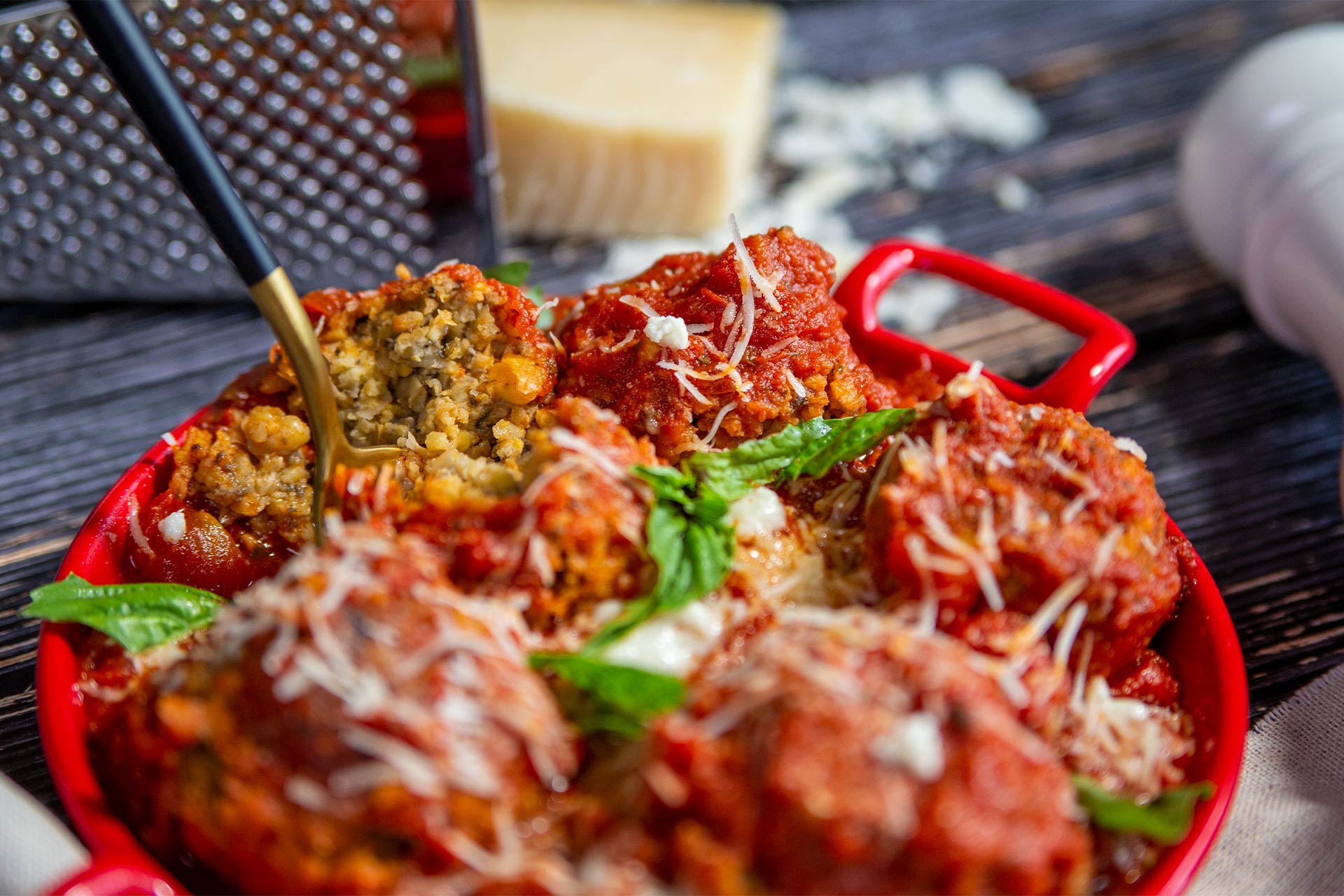 Meatless Meatballs
Ingredients
1 can chickpeas, drained and rinsed
1 cup crimini mushrooms
⅓ cup dry quinoa, cooked and cooled
2 shallot, diced
4 cloves garlic, minced
1 tsp dried oregano
½ tsp fennel seeds
¼ tsp chili flakes
3 tbsp tomato paste
1 cup panko
1 large egg
2 tbsp olive oil
1 jar (530ml) Authentica Siciliana Sauce
3 tbsp basil, roughly torn
½ cup parmesan, to garnish
Salt and pepper to taste
Directions
Preheat the oven to 350°F.
Blitz chickpeas in a food processor a few times until a chunky consistency is formed. Set aside in a large bowl.
Blitz the mushrooms in the same food processor until it's a finely chopped consistency but not mushy or pureed.
Heat 1 tbsp olive oil in a skillet over medium-low heat. Saute the shallots for 3 minutes or until soft and translucent. Add the garlic and saute for another 2 minutes. Add the oregano, fennel seeds, chili flakes and tomato paste. Cook for 3 minutes until fragrant.
Turn the heat to medium-high and add the mushrooms to the pan. Cook for 5 minutes.
Add everything to the large bowl with the chickpeas and stir to combine. Season with salt and pepper. Add the panko and egg to the bowl and mix everything together. Add in the 2 tbsp of olive oil. Roll into balls and place in the fridge for 30 minutes to chill.
Remove from the fridge and roll into balls. Place on a lightly oiled baking sheet and bake for 30 minutes, flipping halfway through, being gentle so as to not break the crust off the bottom side.
While meatballs are baking, heat Authentica Siciliana sauce in a small saucepan over medium heat. Add in the basil. Season with salt and pepper.
Remove meatballs from the oven. Add sauce to a bowl and top with meatballs and garnish with parmesan.
Recipe Reviews