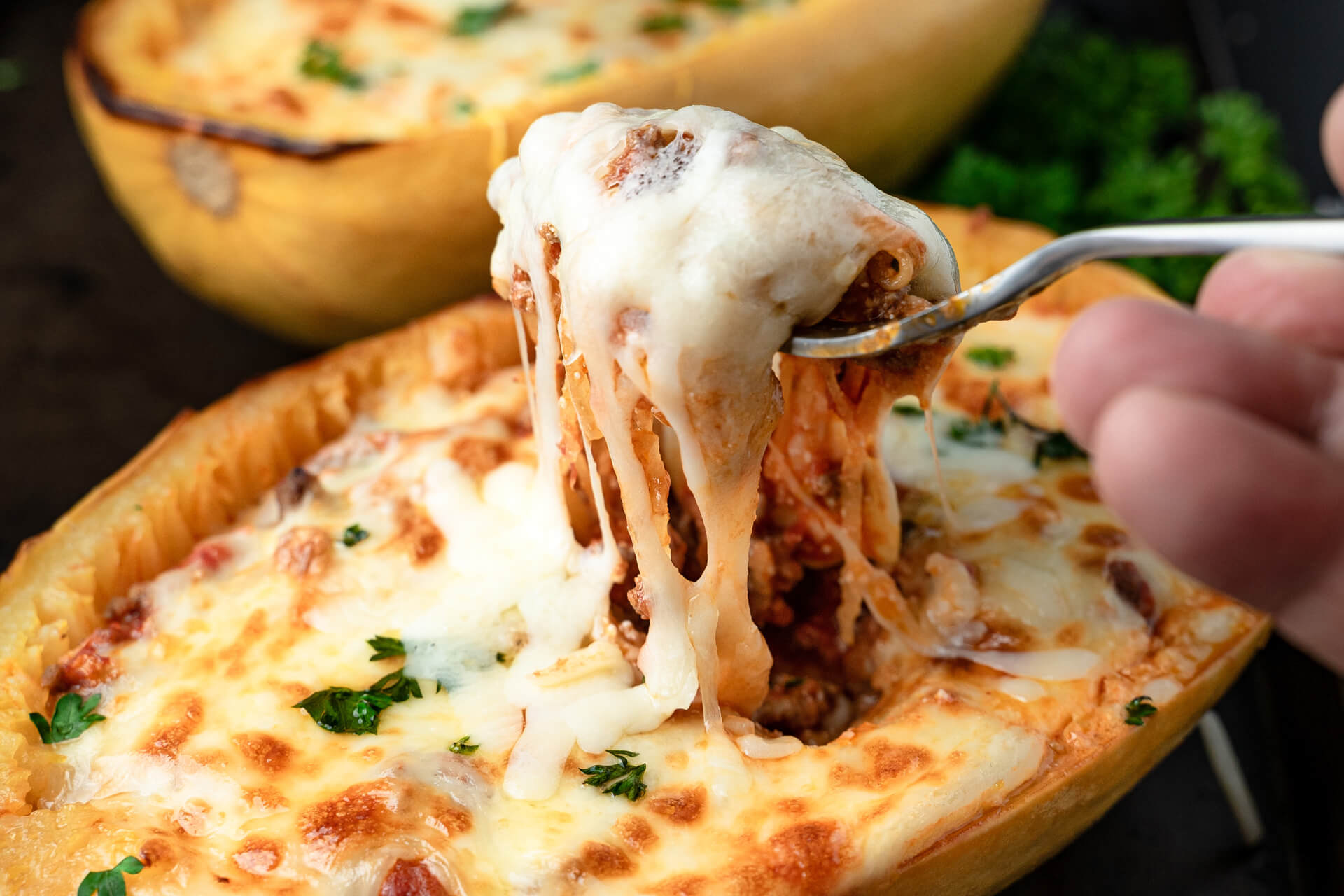 Lasagna Baked Spaghetti Squash
Spaghetti squash and lasagna: a modern, low-carb love story. This recipe is so good and was developed by our Ocean Brands partner, @nomnomyvr on instagram! Thank you!
Ingredients
1 large spaghetti squash (approx 4 pounds)
1 tsp olive oil
1 onion – diced
2 cloves garlic – minced
1 pound ground Italian Sausage
1 ½ teaspoons salt, divided
1 (530ml) Authentica Arrabiata Sauce
1 500g  ricotta cheese
¼ cup parsley, chopped
1 1/2 cup shredded mozzarella
½ cup of grated parmesan cheese
Chopped parsley to garnish
Directions
Preheat oven to 400°F.
Cut squash in half lengthwise and scoop out the seeds. Drizzle with Olive Oil inside and out, and lay them cut-side down in a roasting pan. Roast for 45-60 minutes or until soft when poked with a fork.
Heat olive oil in a skillet over medium-high heat. Stir in onions and garlic and cook until translucent.
Add ground Italian Sausage and cook well. Stir in Authentica Arrabiata Sauce and bring to a simmer. Season with S&P to taste. Continue simmering until the squashes are ready.
Once the squash is cooked and cooled. Use a fork to shred the inside of the squash, leaving about a half-inch of squash left in the shell. Mix the shredded squash into Authentica Arrabiata Sauce & meat sauce and set aside.
In a separate bowl, mix together the ricotta cheese, parsley, and add a pinch of salt.
In the same roasting pan, flip the squash shells (cut side up). Use a spoon and spread the ricotta mixture evenly over the bottom of each shell, then spoon the meat-squash mixture on top of the ricotta.
Bake shells for 15 minutes at 400°F.
Remove the squash and sprinkle the shredded mozzarella and grated Parmesan cheese over the tops of the squashes and bake for another 15-20 minutes or until the cheese is golden brown.
Garnish with parsley.
Cool for 5 mins before serving.
Recipe Reviews