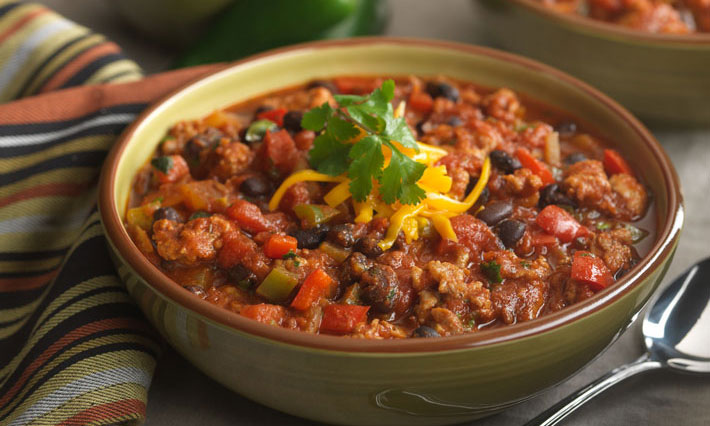 Italian Style Chorizo Chili
A delicious spicy Italian twist to a classic traditional chili recipe. This Italian Style Chorizo Chili is your new favourite comfort food. So yummy!
Ingredients
1 

medium onion,

coarsely chopped

1 

jalapeno chili,

seeded and finely chopped

1 

green pepper,

coarsely chopped

1 

red pepper,

coarsely chopped

1 lb 

chorizo,

sausage meat removed from casings

3 tablespoons 

chili powder

1 tablespoon 

ground cumin

1 can (398ml) 

plum tomatoes,

coarsely chopped

1 (540ml) 

black or kidney beans,

rinsed and drained

salt and freshly ground pepper

Garnishes: chopped green onions, chopped cilantro, grated cheddar or Monterey jack cheese
Directions
Heat a large deep saucepan over medium-high heat.
Add the olive oil, onion, jalapeno chili, green and red peppers.
Saute until onion is translucent, about 3 minutes.
Add the chorizo and sauté until brown.
Stir in spices, Arrabiata Sauce, tomatoes, and beans.
Bring to a boil, then lower heat to simmer, covered for 15 to 20 minutes.
Stir in cilantro. Ladle into warm serving bowls and garnish.
Serve with garlic bread.
Recipe Reviews