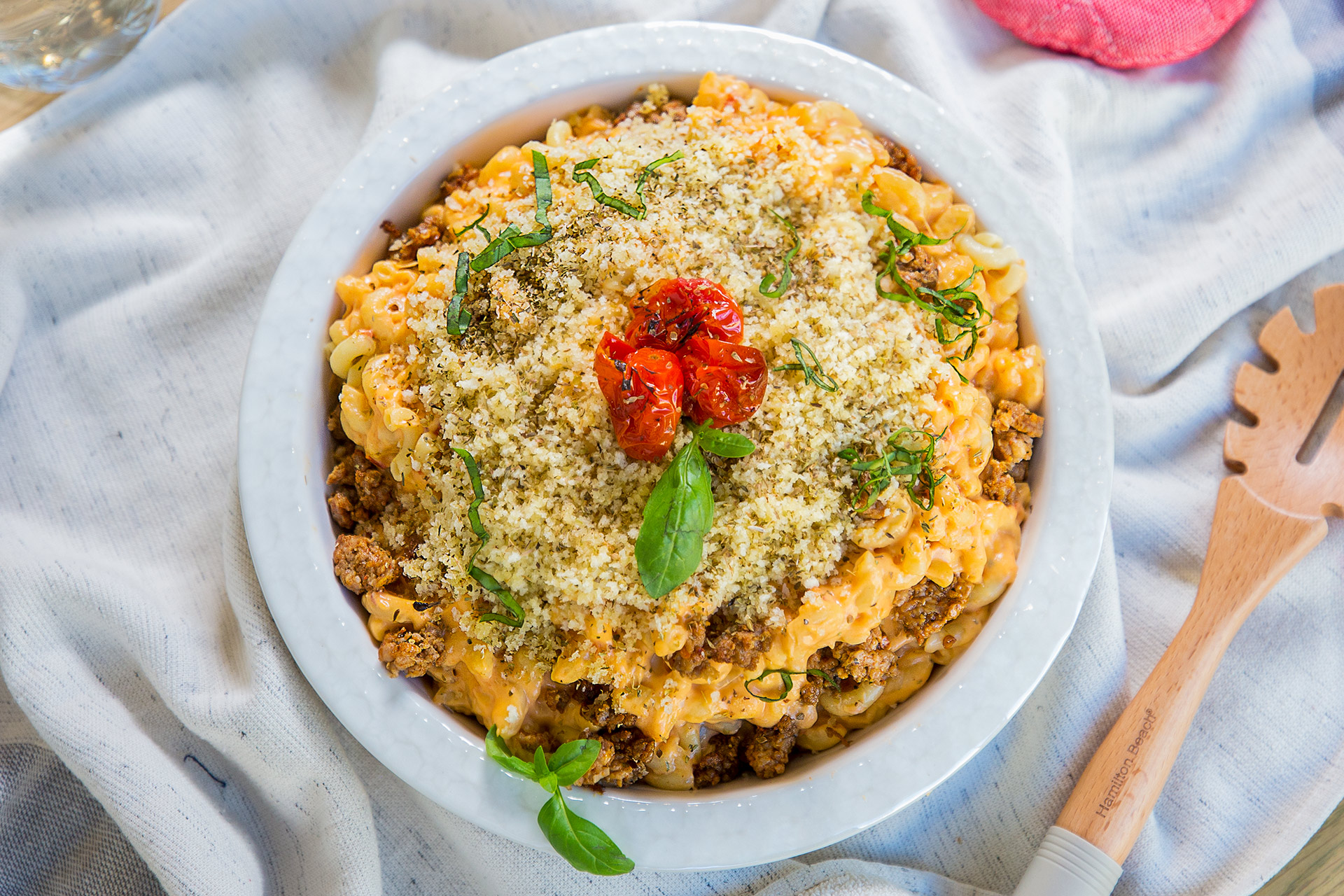 Baked Tomato Mac N' Cheese
Ingredients
1 tbsp grapeseed or olive oil
2 chorizo sausage links, casings removed
450 g macaroni
¼ cup + 2 tbsp unsalted butter
1 tsp cracked pepper
¼ all-purpose flour
2 ⅕ cups whole milk, warmed
3 cups aged or medium cheddar, grated
1 cup gruyere, grated
½ cup reserved pasta water
¾ cup panko breadcrumbs
1 tsp dried oregano
½ tsp garlic powder
Salt, to taste
Directions
Preheat the oven to 350°F.
Melt 2 tbsp butter and add to a small bowl. Add panko, oregano, garlic powder and a pinch of salt and mix. Set aside.
Heat the oil in a skillet or dutch oven over medium-high heat. Add the sausage and cook until brown and crispy. Break up into bite-size pieces. Set aside. Do not clean the skillet.
Cook the macaroni in boiling salted water until just before al dente. Reserve ½ cup of the cooking liquid and set aside.
While pasta is cooking, melt ¼ cup butter over medium-low in the same skillet you used to cook the sausage. Once butter is melted, add cracked pepper and cook for 2 minutes, stirring frequently. Add the flour and use a whisk to incorporate it into the butter. Continue cooking for 1 minute, whisking constantly.
Slowly whisk in the warmed milk a little at a time to form a smooth, silky sauce. Whisk in the Siciliana sauce. Turn the heat to medium-high and bring to a simmer. Cook for 5-7 minutes or until the sauce has started to thicken.
Remove from heat and whisk in the cheddar, gruyere and pasta water. Season with salt. Add the macaroni noodles and stir until all of the pasta is completely coated in the sauce.
Add to a casserole dish, top with panko breadcrumbs and bake in the oven for 25 minutes or until golden brown and bubbling on the edges. Remove from the oven and let sit for 5 minutes before serving.
Recipe Reviews