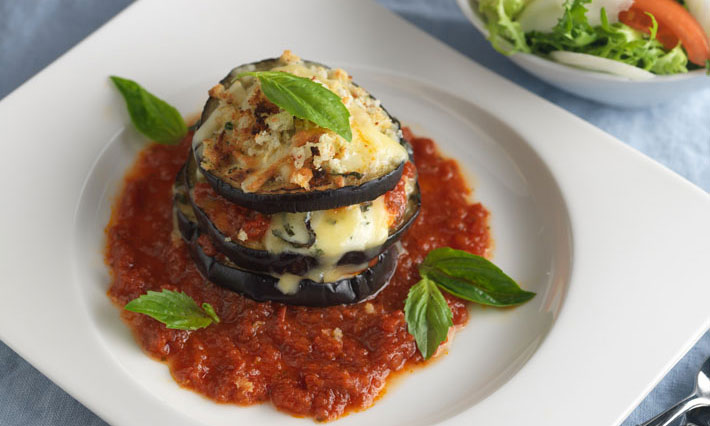 Baked Eggplant Parmigiana
Try our Baked Eggplant Parmigiana recipe instead of lasagna. Skip the unnecessary carbs and enjoy all the cheesy goodness and rich tomato basil sauce. It's so good!
Ingredients
4 Tbsp (60ml) extra-virgin olive oil
2 large eggplants, about one lb (454g) each, cleaned and cut into ½ -inch (1.25cm) slices
Salt and freshly ground black pepper
1 530ml (530ml) Authentica Siciliana Sauce
1 lb (454g) fresh mozzarella, cut into 1/8-inch slices
½ cup (125ml) grated parmesan
1 lb (454g) provolone cheese, grated
1 handful basil leaves, finely julienned
3 Tbsp (45ml) finely chopped oregano leaves
1 cup (250ml) fresh breadcrumbs
Directions
Preheat oven to 450°F.
Grease two foil-lined baking sheets with 2 tablespoons (30ml) each of the olive oil. Season each eggplant slice with salt and pepper and place on the baking sheet.
Place into oven and bake until the tops are golden brown, about 12 to 15 minutes. Remove from oven and transfer the eggplant slices on a large platter to cool.
Reduce oven to 350°F. Spread ¼ cup (60ml) of the Siciliana Sauce on the bottom of a 9 x 12-inch baking dish. Top with a layer of the baked eggplant slices.
Top with about 1/3 of the mozzarella slices. Mix together the parmesan and provolone cheeses together in a bowl and sprinkle about ¼ over the eggplant.
Sprinkle some of the basil and oregano over the cheese layer. Spoon sauce and repeat 2 more times to make 3 layers. End with the remaining cheeses.
Gently press down the layers in the baking dish and sprinkle the top with the breadcrumbs.
Place in the upper part of the oven and bake until the cheese is melted and bubbly and the breadcrumbs are golden brown.
Recipe Reviews